BeautyFinest: BioFinesse ampoules & Hermippe Portable Auto Vibration Massager
Thursday, February 24, 2011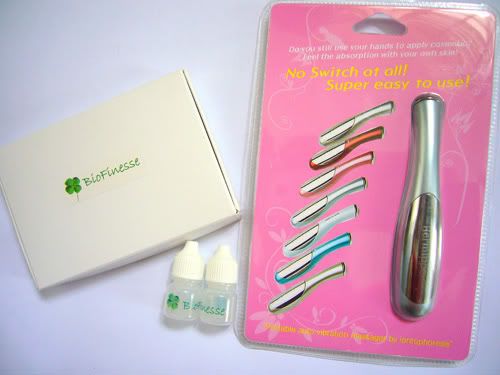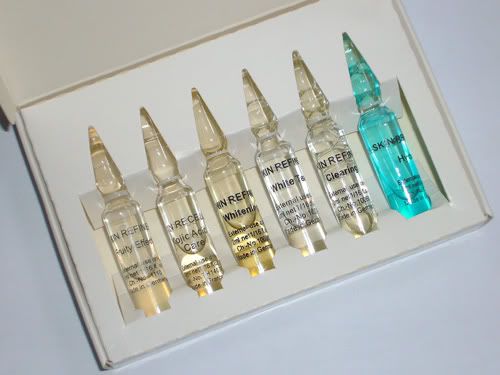 What are ampoules:

Remember the times when you had your facial, the beautician would apply something to your face from a glass vial? Yes, that is an ampoule. I also remember that they would try to sell me vial of ampoules, claiming that it would aid my acne-prone skin then. And guess what? Ampoules didn't come cheap and I remember paying about $15 to $18 each for a vial of ampoule then. But guess what? BeautyFinest offers salon-quality made in Europe ampoules for as low as $7.50 each.

For those of you who are not familiar with ampoules, they are airtight glass containers that are filled with highly effective and concentrated serum which would enhance the efficiency and effectiveness of your skincare's absorption into your skin. They prep your face to allow for better penetration of the cream that you apply after the serum. They usually contain botanical extracts, vitamins and enzymes and do not contain any preservatives or chemicals due to the airtight packaging. There are ampoules designed to address every skin condition and deficiency.
Ampoules can have remarkable effects on various skin conditions, irritations, hyper-pigmentation, as well as, aging. Visible results are achieved within a short time after application. Combining ampoules and masks together in a treatment enhances the results.

Steps on how to use ampoules:

1. Cleanse face.
2. Using a tissue and break open the ampoule
3. Pour about 1/2 out onto palm and apply to face using fingertips to dab in the contents.
4. Product can be applied on face and neck area. Do not use over eye area.
5. Wait for the ampoule to be absorbed completely into your skin before applying moisturizer.
6. Please do not used on open wound or peeling skin.
7. Remaining ampoule can be stored in the fridge.
8. To be used within 3 days.
I received 6 vials of ampoules namely Fruity Effect, Kojic Acid Care, Whitening, White Tea, Clearing and Hydro from BeautyFinest. Here are my thoughts on them.

Fruity Effect
I divided this ampoule into two parts and used them over 2 days. After using it, I realised slight brightening effect on my skin. My skin also felt smoother.
Please remember to apply sunblock after applying fruity effect ampoule in order to prevent pigmentation.
Kojic Acid Care
For this ampoule, I used it over 3 days, applying only on the affected areas like my scars. It does helps in lightening my scars, about one shade lighter.
Whitening

For this ampoule, I used a whole vial at one go. I patted it on like how I would pat Hada Labo Super Hyaluronic Acid Lotion, until it was fully absorbed into my skin. I noticed slight brightening effect.
White Tea

I used this vial of ampoule over 3 days by applying it sparingly, only on the affected areas (pimples). What I like about it is that not only does it helps to dry up my pimples, it also lighten my scars up to 1-2 shades.

Clearing

Like the White Tea ampoule, I used this over 3 days by dabbing sparingly only on the affected areas. It dries up my pimples too.

Hydro

I split this vial of ampoule into half, using it over a period of 2 days. I applied 1/2 a vial of it on my face after applying toner. After applying it onto my face, I felt my skin tighten. I was out for the entire day and when I reach home, I felt that my face wasn't as oily as it would be normally. I must say that its rather good, especially in moisturizing my face.

On the whole, these ampoules absorb really quickly into the skin.

BeautyFinest has also kindly provided some ampoules for my Mom and my cousin to try out. I'll try and get them to share their thoughts with me once they have tried it out.

I also have received a portable massager that automatically vibrates based on your skin condition.
Hermippe Portable Auto Vibration Massager

Do you still use your hands to apply cosmetics? Feel the absorption with your own skin! No switch at all and super easy to use!
What is it:

Hermippe Wrinkle Care is the total massager to help skincare penetrate deeper into your skin is here! It has a remarkable effect on your wrinkles when used with anti-wrinkle care products. It has a conveniently shaped massage head for easy application to the facial contours around the eyes, nose and mouth.

This Magic Auto Vibration Massager was created with the latest Emotional Technology! It operates automatically when the massage head comes in contact with the skin surface. It will adjust automatically to your skin conditions and the amount of skincare applied. A strong vibration is generated for a large amount of skincare. As the effective ingredients are absorbed deep into the skin, the intensity of vibration gradually becomes weaker and will automatically ceases when the applied cream is fully absorbed into the skin.

My thoughts:

I liked how handy the massager is. It's so compact that I can bring it around anywhere. Besides, not only can it be used for your eye area, it can be used on your face as well. I have tried it with a couple of my moisturizers and serums and it sure does help in allowing better absorption.

Tip: Using the picture above as a guide, massage your face with the facial massager and you will see slight lifting effects! Well, it did work for me, at least. (;
Check out BeautyFinest Promotion now at http://www.beautyfinest.com!

- Buy 5 Ampoules and get 1 absolutely free! (Contents in one box) @ S$50
- Buy 2 boxes and get the 3rd box at 50% off!
- Buy 10 Ampoules at S$75 (S$7.50 each)

Disclaimer: Products were given to me for review purposes.