Pre-Christmas and Christmas Celebration
Monday, December 27, 2010
Hello lovelies, I apologise for the lack of updates as I have been pretty occupied lately, not to mention Christmas shopping and preparations for Christmas!

Today I have with me here a couple of overdue posts which mainly consists of good food and company. Read on to find out more!
Last Tuesday, I met up with the girls for dinner over at Food For Thought. We had planned to exchange presents with each other hence imagine how panicked I got when I discovered that I left my gift at my office. Not my day huh? I had a bit of time before meeting the girls so I headed over to The Cocoa Trees to grab a pack of Hawaiian Host Macadamia nuts chocolates. And then I realised that I don't know how to walk over to Bras Basah MRT Station. I didn't even know where it was located. And.. guess what? My iPhone's Maps came to the rescue! Yays to GPS! Its so handy for me because I always get lost.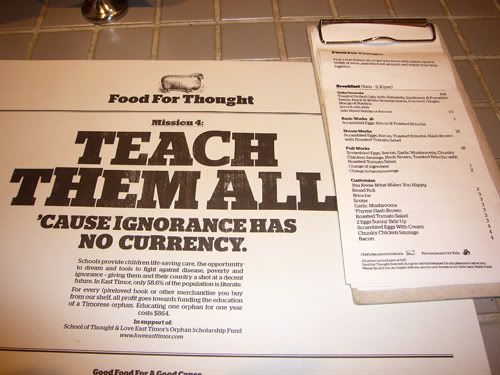 I like how old-school the menu looked.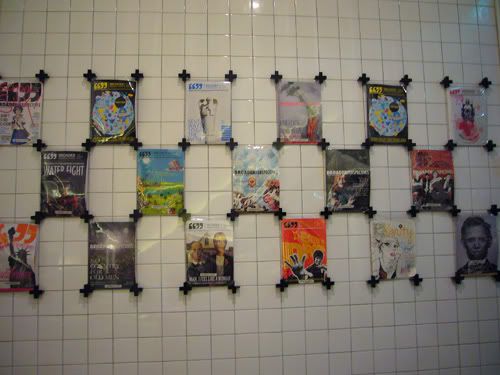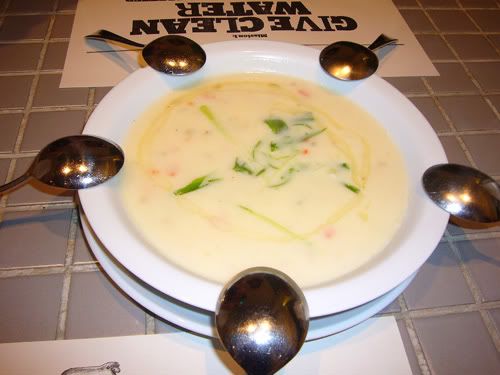 Soup of the day
I think it was Cream of Chicken if I didn't remember wrongly.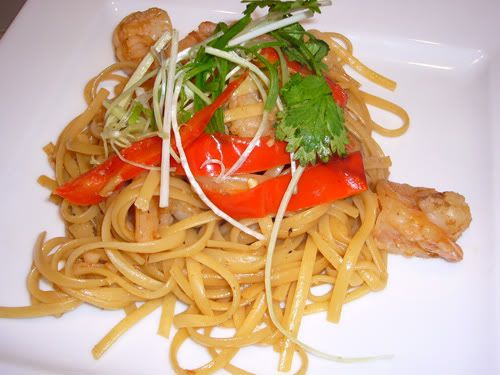 Garlic Prawns with Coriander Linguine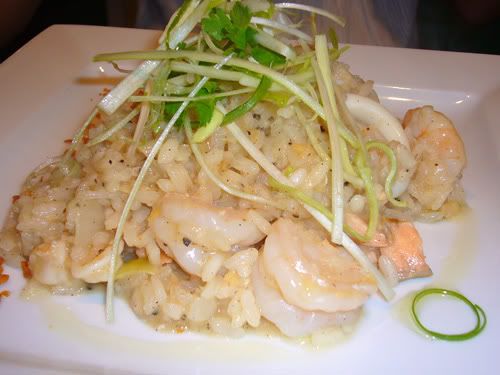 Calamari, Prawn & Salmon Risotto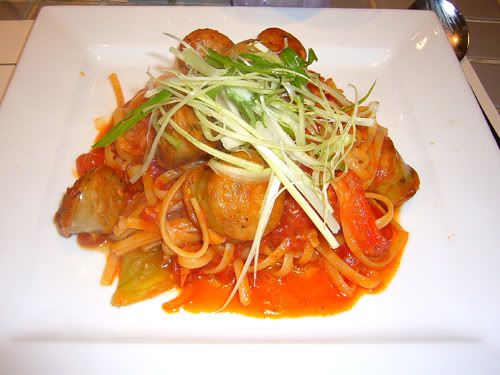 Chunky Sausage & Tomato Linguine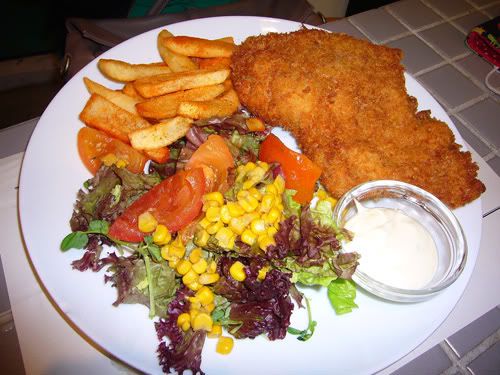 Crispy Curry Chicken & Spicy Chilli Fries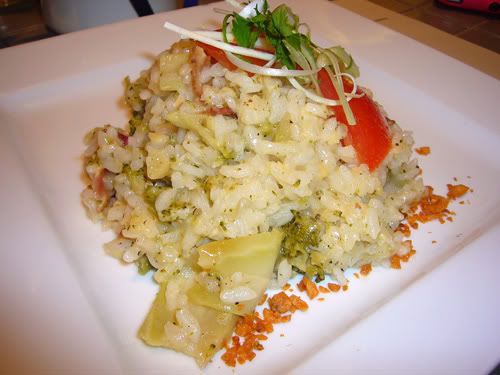 Broccoli & Bacon Risotto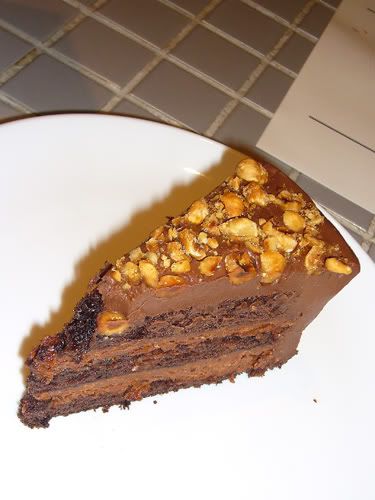 Ferreo Rocher Cake
Overall rating of Food For Thought: 4/5

I had Garlic Prawns with Coriander Linguine. While the linguine tasted really bland, I really liked how succulent the prawns are.
The best food item of the day would be the Ferreo Rocher cake even though cakes ain't really my cup of tea now.
If you are visiting Food For Thought anytime soon, do try their risotto. Its really good I must say.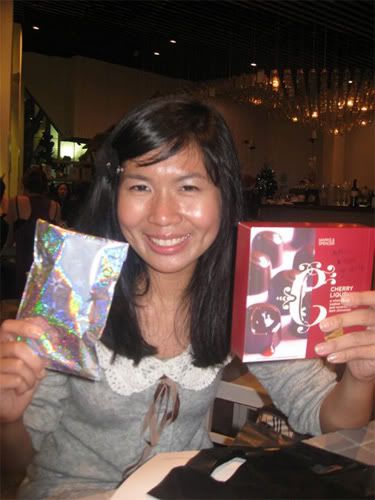 And it was time for Christmas gift exchange! Guess what I got? Cherry Liquer Chocolates from Marks & Spencers. Thanks Andeline! The other silver package that I am holding contains handmade cookies from Shin Sin. How sweet of her, right?
Guess what am I doing and what is Andeline looking at?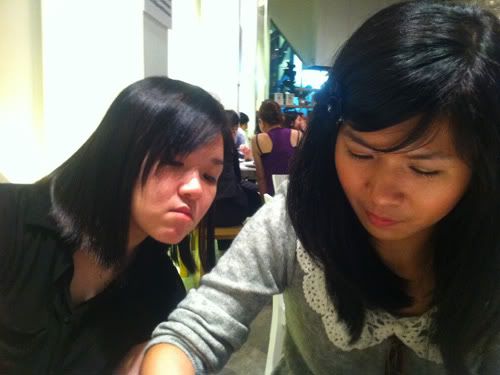 .
.
.
.
.
.
.
.
.
.
.
.
.
.
.
.
.
.
There you go. My masterpiece!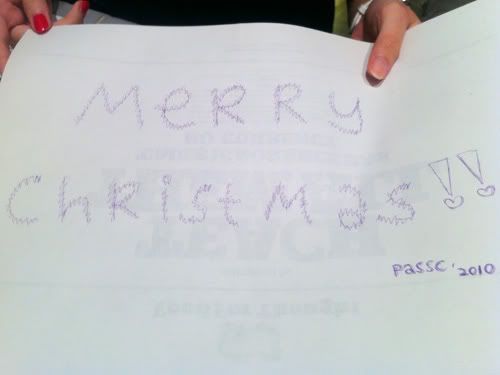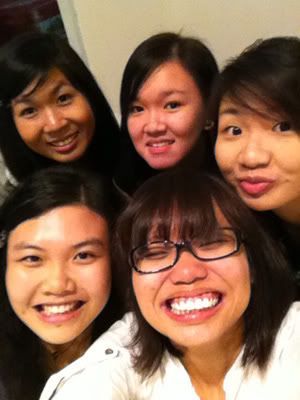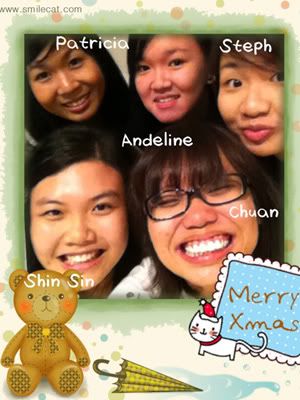 I was playing around with this new Korean app,
SmileCat
and I turned the original photo into a neoprint or rather scrapbooking lookalike. iPhone users, you should go download it as it has got a lot of cute graphics.
---
On the eve of Christmas Eve, my colleague whom just got back from the States handed me this.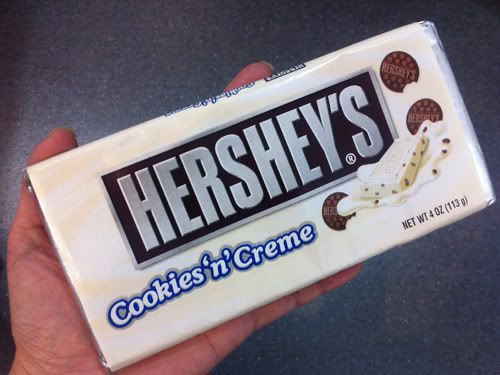 Oversized Hershey's chocolate bar which translates to a good start early in the morning!
Later in the evening, I bought a baguette from Delifrance and made bruschetta. Its really easy. Just cut tomatoes, capsicum and onions into chunks and mix them in a mixing bowl with some olive oil with sprinkles of majoram leaves.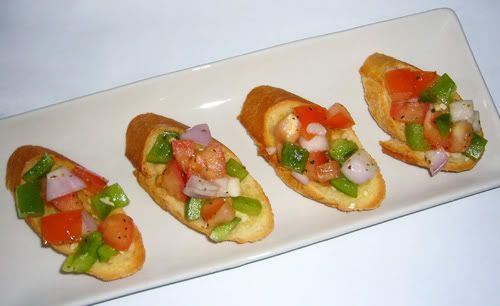 After a light dinner, I went down to Ion Orchard to meet my cousin for last minute Christmas gift shopping. I know, we always do that. But well well well, everyone's busy especially during year's end.
As usual, we ran out of ideas of what to get for our cousins so basically we were getting food and drinks and doing some window shopping or rather, shopping for ourselves. And then we came across this store, dENiZEN which is a subsidary brand of Levi's. Their merchandise includes basic tees, polo tees to casual shirts and of course denim jeans. So basically, we bought 3/4 of our Christmas presents over there before heading to New Look to get the last present. We bought clothing for all of our cousins this year. Anyway, I saw a shirt which I really like over at dENiZEN. The material is like wool, so soft.
And the real damage was at Samantha Thavasa. Yes, Samantha Thavasa is now available in Singapore!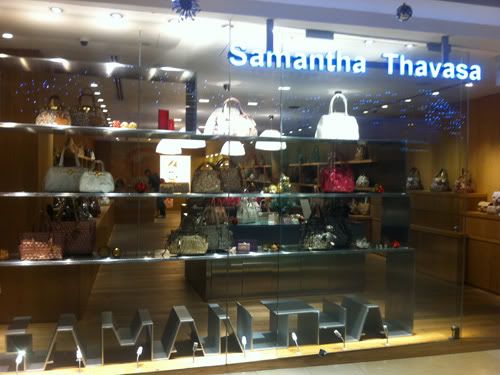 In case you girls are not familiar with Samantha Thavasa, it is one of the most popular handbag, accessories brand in Japan. If a Japanese girl can't afford Louis Vuitton, the next best thing to own is a Samantha Thavasa.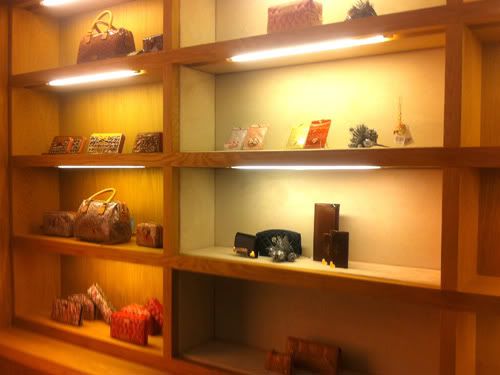 I checked out their bags and I really love them. Oh my. Maybe I shall get it when I get my next paycheck?
Samantha Thavasa also have a collection featuring Hello Kitty prints. You know, even though I don't really like Hello Kitty that much now, but after seeing Samantha Thavasa's Hello Kitty collection, it kinda make me fall in love with Hello Kitty again! You probably won't understand but wait till you go into the stores and you will definitely get what I mean!
Even their cashier counter has got customized Samantha metal carvings.
So what did I get? You girls must be curious huh?
.
.
.
.
.
.
.
.
.
.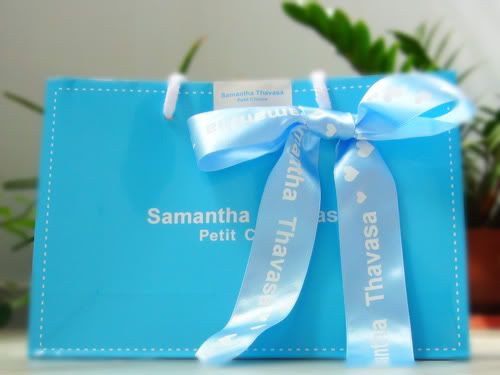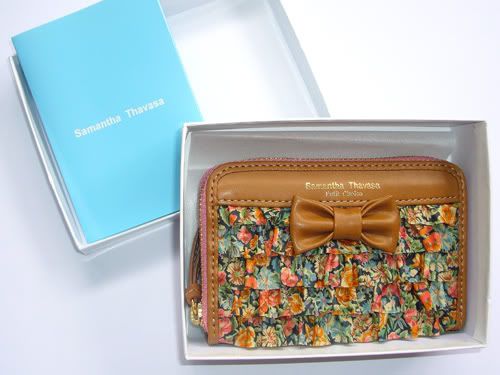 Samantha Thavasa Coin Pouch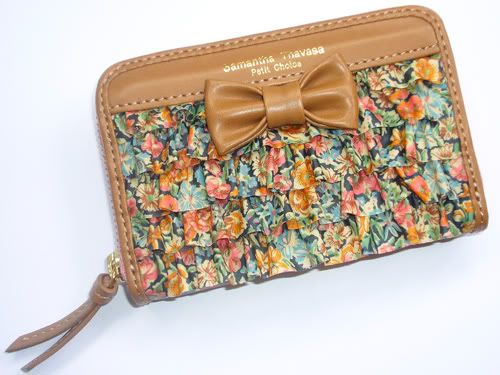 Ain't it lovely? When I saw the frilly prints and the bow, I knew I had to get it because its so me! I was torn between brown and red. But the red one has got its frilly prints in light color which would meant that it would be stained easily. So I went ahead with this one. I kept stealing glances at the red one while making payment though. Girls are always fickled-minded.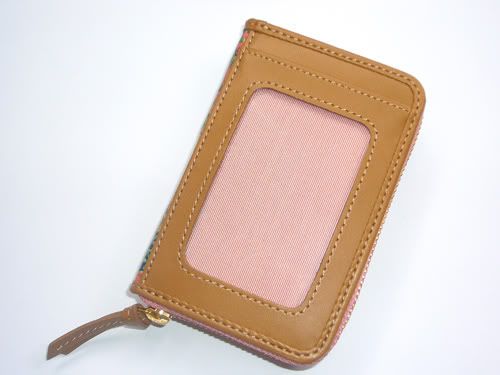 You could place an ID or EZ-Link Card at the back.


That's where you store all your loose change.
---
Christmas Eve was spent over at Uncle's place where we had a sumptuous feast, think fusion. We had everything from western to oriental and even Italian delights. I made bruschetta again with Elvin and Ebony's help, this time round with basil leaves and it tasted so much better!
Warning: Food pictures below may cause instant hunger.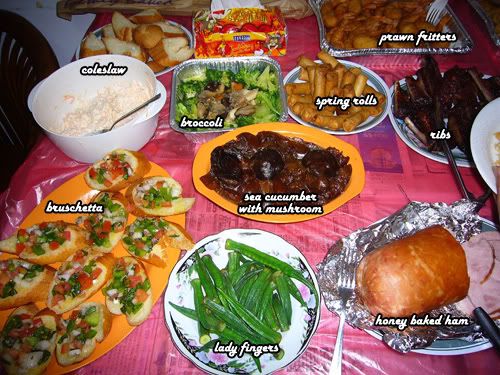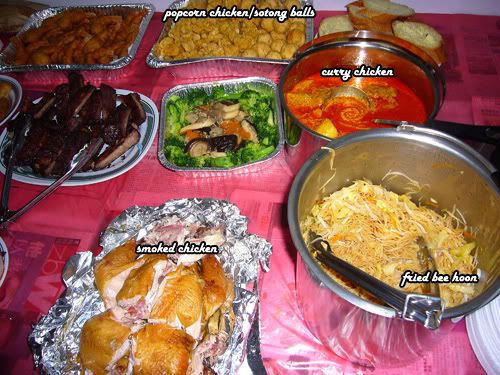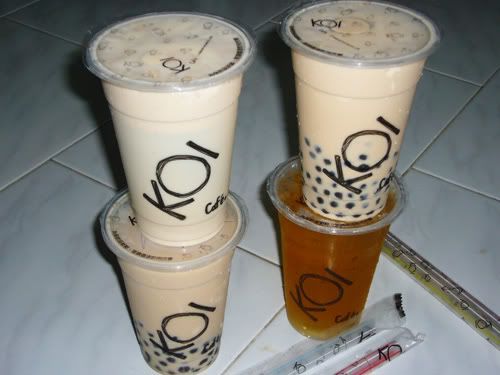 Bing bought Koi for us. Pris was like asking Bing if KOI was supposed to be 豆 in Chinese, turns out that it is. And I didn't realised all these while. -__-"
What's Christmas without having log cake? Even though log cake is merely swiss roll with fancy ornaments, still, it brings a smile to many.

May I present to you, the log cake of the year...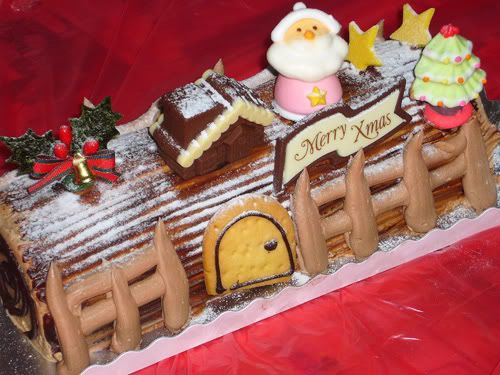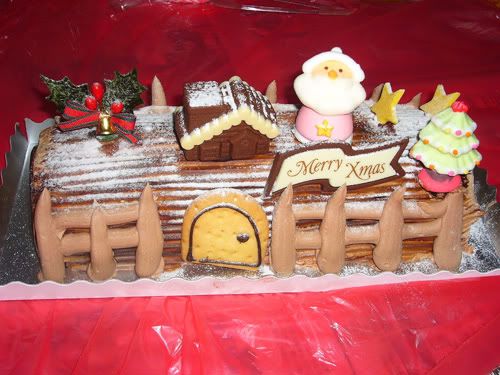 It was so pretty and fairytale-like that everyone couldn't help but to snap pictures of it be it using their iPhone, digital camera or semi-pros. So that kinda explains why I put up 2 pictures of the log cake, because its too pretty. And you know what? No one could bear to cut it and we were all waiting for each other to cut it. Haha.
As we all know, Christmas is a season of giving and sharing. What's a Christmas without exchanging presents? Instead of the norm, we have a huge teddy bear to replace the Christmas tree.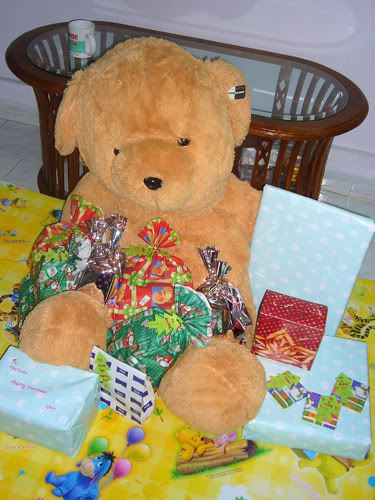 These are what I received!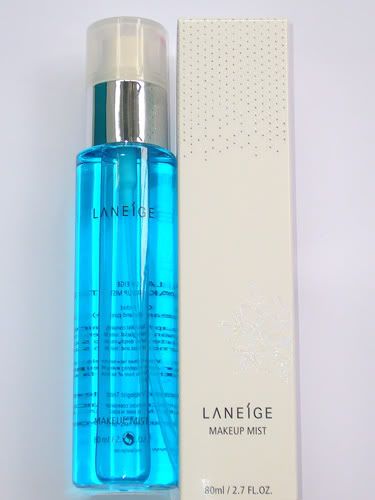 Laneíge Makeup Mist
I did considered to get this makeup mist previously but I striked it off my list because I did not think that the price justified for it. So imagine my delight when my cousins got this for me! Awww, thank you lovelies. (: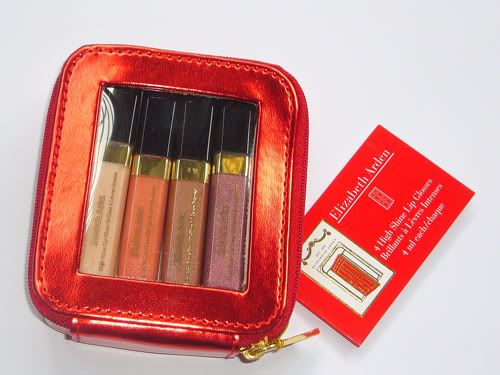 Elizabeth Arden 4 High-Shine Lipgloss
My first ever Elizabeth Arden product, from my Aunt and Uncle. The shades are all very pretty and I reckon the coral peach and plum shade would be my favourite!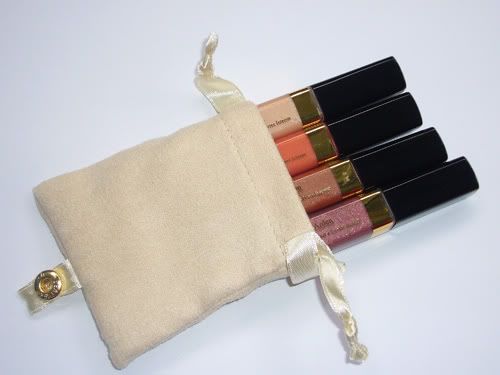 The set even comes with a tiny detachable pouch which you could use to contain the lipglosses when you want to bring them out. How handy!
That's all for today for it has been such a long post. Till then!
XOXO,
Patricia