Oriental Princess
Wednesday, April 07, 2010
Oriental Princess is skincare and makeup brand which can be found in Thailand. My love for blushers started since I laid my hands on the Majolica Majorca blush in #255.

So these are the items which I got.
1) Kiss From A Rose Natural Face Tint
in 02 Heartbreaker
I have always wanted to get Benetint from Benefit but I don't think its worth spending so much on a cheek stain. The reason why I wanted a cheek stain was because I read that Ku Hye Sun from Boys over flowers (refer to picture below) uses cheek and lip stains to achieve rosy cheeks and lips.

2) Popping Cheek Blush Puff
in 02 Peachy Red
I got this because it has a puff/sponge which meant easy application. Partly also because I am curious as I have never tried applying blush using a puff/sponge before. Initially, I was quite skeptical as I thought that it would result in heavy/uneven application. But I was wrong, so wrong. In fact, it blends out nicely and this blusher even have a mirror on its cover which is so convenient, especially for touch ups on-the-go!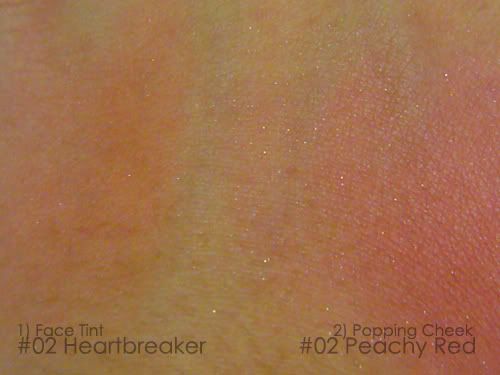 Without Flash.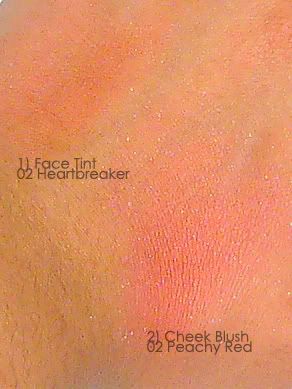 With Flash.


Although both blushers look rather red in their packaging, in actual fact it gives out a soft, dewy &healthy glow when applied. The face tint is more coral orange-looking and less shimmery while the cheek blush is more pink and contains more shimmer.

My colleagues commented that the cheek blush makes me look very healthy. Have yet to try the face tint though. How many of you have actually tried face/cheek tint before? Did you girls like it? Do tell me what you think alright?

On a sidenote, I am so so so tempted to get these!! Canmake cream cheek. They are so lovely.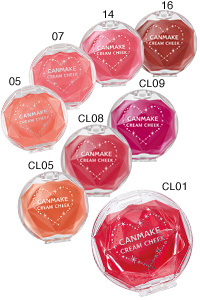 The only downside is that I would require a stippling brush to use this cream blush effectively. Am so tempted to get Mac 187.

I am looking for a good gel liner. Am considering these

1) MAC fluidline
2) Bobbi Brown long-wear gel liner
3) Shu Uemura painting liner
4) Maybelline Lasting drama gel eyeliner
5) Loreal 24 hour super liner gel eyeliner

Has anyone tried any of the above? Or have any good gel liners to recommend? Do let me know by posting a comment.

Hope you enjoy my post! Till then.