MYMP
Thursday, April 08, 2010
I was captivated by the song which was playing in a music store while my colleagues &I were on our way to have lunch. I merely asked my colleague, S casually if he knew what song was that as I knew that he is too, very fond of music. &He was like wait, let me take out my phone first. I couldnt comprehend his action. He then explained to me that there is an application in his phone that can detect the song &display the song's name if you put it close enough. To our dismay, there was something wrong with his wireless hence I went up to the shop assistant &enquired. &Guess what? Its a new album by MYMP, absolute acoustic.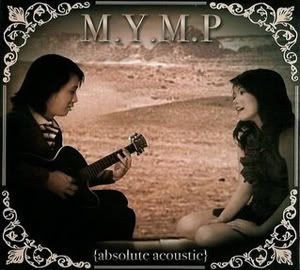 The song which captivated me which was playing in the store is actually Nothing's Gonna Stop Us.
MYMP songs are simply smoothing to the ear &very much loved by me. I first knew about them in 2006 when their 'Tell me where it hurts' was a hit.
I still remember vividly that my ex-colleague, Vincent used to love MYMP songs so much that he would always sing their songs to me.