My Lipstick Collection
Sunday, January 10, 2010
I shouldnt be doing this right now but somehow I just cant seem to focus on my work lately. Anyway, I got bored today &decided to swatch my lipsticks. Yea this are my collection for now. Note the for now because.. yours truly is expecting her haul from NYX soon! Yayness! Cant wait for that.

Anyway, I have more than enough makeup but I just couldnt resist buying more. Now I am lusting over lilac lipsticks. They are super pretty and girly. I reckon I need a makeup shopping spree again. Am still considering between the UDDP or Too Faced Shadow Insurance. Maybe I'm gonna head to Sephora to check the latter first before I decide. On my to-buy-list for makeup are Revlon Pink Whisper gloss (super nice shade can?), Lancome gloss 100, gel liner (which I seriously dont need it but I want. HOW HOW?) and fan brush. Should I get the kabuki as well? I have a contour brush for contour and I just got a new blush brush. And, I have a brush for loose powder which is really good and lasted me for quite a well. I really dont know what I would use the kabuki for but its real pretty. Grr. Pretty things always tempt me by calling out for me. If you know me, I'm a sucker for pretty packaging, never mind bout the content inside that much.

Alright, back to the lipsticks. Well, I never used lipsticks until like 2 years ago I think. Because I always thought that gloss were better. But they never lasted long, which I feel it irritating and troublesome, having to reapply time after time.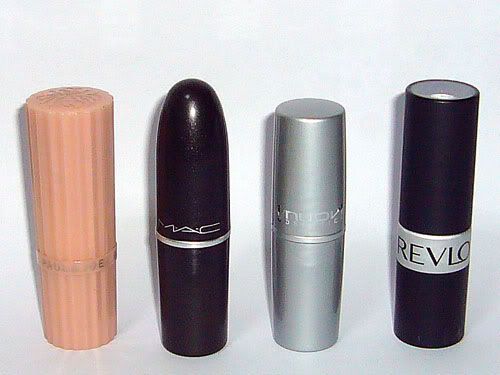 From Left to Right:

1) Paul & Joe Lipstick N #10
2) MAC Lustre in Giddy
3) I Nuovi, Ivoluxe in Lush
4) Revlon Matter in Really Red #006

Top row: Paul &Joe, I Nuovi
Bottom row: MAC, Revlon
Of all, I use my MAC lipstick the most because its a real sweet color. Its kind of creamy pink. &It goes well with all kinds of makeup. I bought the Paul&Joe one to achieve the nude look. Its shimmery though. As for the I Nuovi one, I got it because I wanted something that looks like Maybelline's Pink Please. It was the closest but still, nowhere near hence I ordered Pink Please online yesterday. Oh yes, the Revlon one is real pigmented which I didnt expect. It good especially to achieve the French look. Think Little Black dress with black smokey eyes and red lipstick.

Hope you guys enjoy this post! Till next time. (: