ECFA Hotel Wan Nian 愛客發時尚旅館萬年館 review
Tuesday, March 12, 2013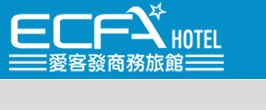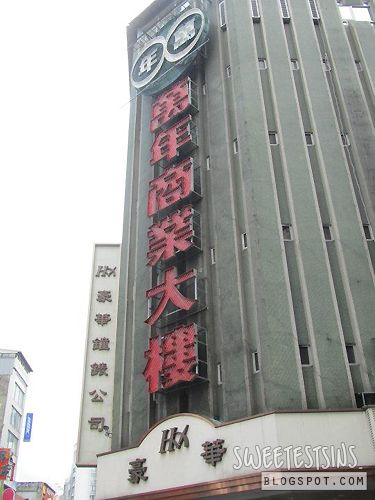 萬年館
西寧南路70號6樓, 西門町, 台北, 台灣(萬年商業大樓)
As most of you know (either through Instagram updates or blog posts), I went to Taiwan (Taipei and Taichung) to be specific with my girlfriends, Andeline, Shin and Chuan last May. It was a shame that Steph couldn't join us because she had SIP.
The Taiwan trip was a very random one to begin with. It started when someone mentioned that there was cheap air tickets during a Jetstar sale and before we knew it, we booked our tickets from Singapore Changi Airport to Taoyuan International Airport.
You might ask what sparked me to write this post when almost a year have passed. Well, the holiday season is approaching and I have got many friends and colleagues asking about which hotel is good in Taipei, Hong Kong, Macau, Bangkok, Korea etc and I thought it would be so much easier to document it down for future purposes and that it would be much clearer rather than for me to tell them verbally. I don't know about you but I'm very much of a 'blue-printing process' person.
As Shin and I have both graduated and are already in the workforce, Chuan and Andeline very kindly offered to help with the sourcing of the hotel and the itinerary respectively. We did help too, but it was very minimal. I just prepared a list of the places that I wanted to go.
I had no idea how Chuan did her comparison but somehow she managed to streamline the choices down to this hotel, ECFA Hotel Wan Nian. All I remember was that she was whatsapp-ing us telling us about ECFA Hotel Wan Nian, about how awesome it is because its literally across from Ximending 西門町. So much for being efficient, we booked our hotel room via
Agoda.com
on the same day itself.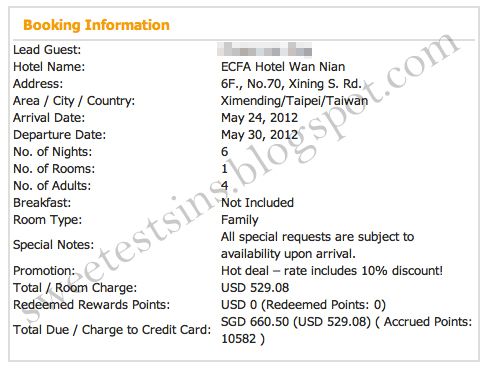 We booked the family room for 6 nights and it was USD 529.08 (SGD 660.50) in total. There was a hot deal which entitles us to 10% discount.
Here's a breakdown of the prices for your convenience.
Family room per 6 nights (4 pax): $660.50
Family room per 6 nights (per pax)
:
$165.13
Family room per night (4 pax): $110.08
Family room per night (per pax)
:
$27.52
Can you imagine each of us only paid $165.13 for 6 nights of stay in ECFA Hotel Wan Nian and $27.52 per night? That's really a good deal I would say, given the fact that we had en-suite toilets.
Moving on, the list of facilities below is mentioned on ECFA Hotel Wan Nian's website.
In-room facilities
Free high-speed broadband network
Independent air-conditioning system
Coffee / tea making facilities
Hairdryer
Fine toiletries
32/42 inch LCD TV
Cable TV channels
Refrigerator
We reached our hotel at about 8am in the morning. We actually walked pass the building once without realizing that its Wan Nian Commercial Building. We only realized it was the building that our hotel is in from the next street after we crossed the road. I have used
Google maps
prior to my Taiwan trip for a virtual street view screen shot of Wan Nian Commercial Building as well as its surroundings, of which I identified landmarks such as the convenience store, FamilyMart opposite as well as a particular hair salon. Now Google maps even allows you to take virtual tours of any countries! I don't like the idea of walking the extra mile when it comes to locating places while traveling. So if you want to save yourself some time in locating destinations that you are unfamiliar with, remember to check it on Google maps before you go!
A lot of people referred Wan Nian Commercial Building to somewhat like CTMA Centre in Hong Kong. It reminds us of Far East Plaza in our home country, Singapore though. There's almost everything in the building itself - from Taiwan snacks in B1, perfume on L1, watches on L2, clothes, shoes and second-hand items on L3, toys and figurines on L4, arcade on L5, pool hall and LAN shop on L7 etc.
The earliest check-in for ECFA Hotel Wan Nian is 3pm hence we left our luggage at the reception, grabbed our face cleansers, toothbrush and toothpaste for a quick wash up before we started our day in Taipei.

After breakfast and some shopping, we headed back to our hotel to check in and to rest before heading out at night.

ECFA Hotel Wan Nian is situated at the 6th floor of Wan Nian Commercial Building. The first thing that you would see upon stepping out of the lift is the 'lobby' aka the reception of ECFA Hotel Wan Nian.


ECFA Hotel Wan Nian reception
Service
The staff are really courteous. They never fail to stand up and bow to greet us each time we leave the hotel or arrive back at the hotel. If you wish to order breakfast, just let them know and they can help you with the ordering. We wanted to make reservations for lunch at Hello Kitty Cafe during one of the days while we were there and we asked if they could help us with it and they gladly did it very promptly!
ECFA Hotel Wan Nian do provide a map (customized by themselves) for their guests that shows the popular landmarks and eateries. Its a simplified version compared to Google maps.
Rating:


★★★★★
Let's begin the virtual tour of our family room in ECFA Hotel Wan Nian!
Our double beds! Love the checkered board design!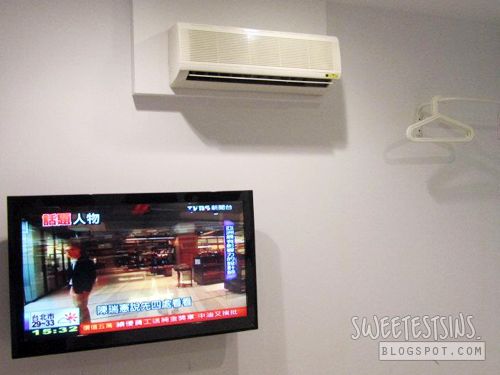 Flat screen LCD TV
We thought that it would have been better if there were more hangers provided as there is only 2-3 provided and the fixture for us to hang our stuffs (maximum one pair of jeans) and that's about it.
Kettle, safebox and fridge
There is complimentary tea bags and paper cups provided as well as 2 bottles of mineral water replenished on a daily basis. There's also a coffee machine on the left side of the reception that guests can use as well as a water point with both cold and hot water (which we didn't know until probably the 3rd day as our room is on the right).
The safebox is a plus-point because we keep our passports and money (so that we won't have to bring so much money with us everyday) in there so that we won't have to worry. Chuan even kept her Blackberry in there!
Andeline boiled water for us on a daily basis while we were there so that we won't have to keep drinking bottled water and that we get to save a little as we won't have to keep purchasing water.
We love the fact that there's a fridge because we just threw in whatever we bought - milk tea, milk, Taiwan beer and even half-eaten pack of chips. Hahaha.
Now onto the en-suite toilet. Its at the far end of the room, separated by frosted glass. It doesn't offer maximum privacy but we are all girls so I guess that's okay.
ECFA Hotel Wan Nian toilet
Shampoo, shower gel and hair dryer
If you want to travel light, you can skip the shampoo and shower gel as ECFA Hotel Wan Nian do provide them. Do remember your toothbrush and toothpaste though.
The fact that the hair dryer is fixed in the toilet permanently isn't that convenient especially when there's like 4 of us and we take turns to shower. Imagine everyone will dry their hair after showering, and how long will the last girl have to wait? Geez right?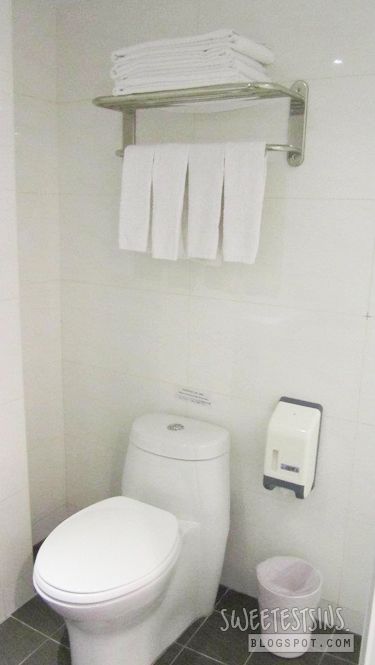 Face/hand towels and body towels
The towels in ECFA Hotel Wan Nian are pretty clean, its off-white. Although most of us did bring along our own towels, we used the ones that they provided anyway.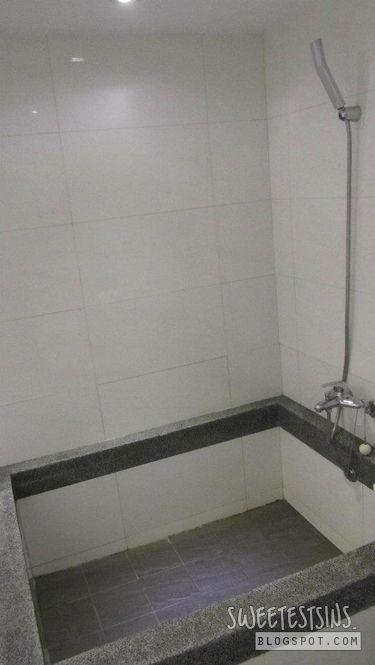 Showering area/bathtub
The showering area is such that it is also a bathtub that looks like a hot spring. We don't use it as a bathtub though.
Environment
As ECFA Hotel Wan Nian is situated on the 6th floor of Wan Nian Commercial Building, with level 7 being a LAN shop and pool hall, there's no doubt that on some nights we hear the pool balls knocking.
The rooms are not soundproof either. We can hear people talking at the corridor.
Rating:


Safety
There are actually a few entrances/exits to Wan Nian Commercial Building but at night, they lock all up except for one that is guarded by a security guard thus we feel very safe even though it was just the four of us alone.
Rating:

★★★★☆
Cleanliness
ECFA Hotel Wan Nian cleans the room on a daily basis. All of us brought our own cleanser, shampoo, conditioner and shower gel along and we had so many bottles in the bathroom. It is always packed neatly for us.
Rating:


★★★★★
I hope you like this post! Thanks for reading!
Love,
Patricia
To be notified of the latest beauty news, launches or events, follow me on


or like SweetestSins on