Korres Thyme Honey Cleansing Scrub
Saturday, June 16, 2012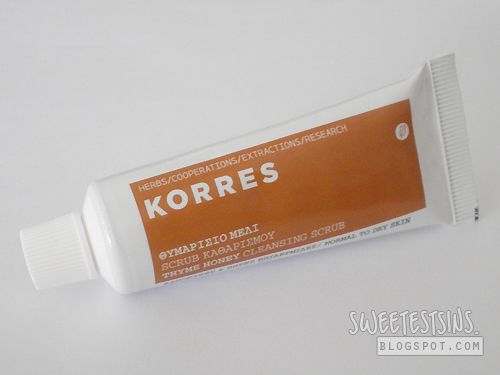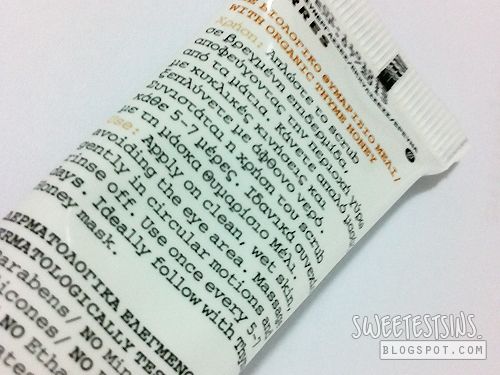 As most of you know, I don't fancy exfoliating my face with face scrubs because some of them can be so harsh on the skin, leaving it sore and angry with redness. However, exfoliating is almost a must when it comes to achieving smooth, flawless skin. Here's why:
#Fact 1: Exfoliating helps in cell renewal.
#Fact 2: Make your skin glow, feel soft and smooth
#Fact 3: Will be easier to absorb the benefits of your skincare products
To make regular face scrubs feel less harsh on my face, I usually mix my face scrub and my regular cleanser in the ratio of 1:1. That's not all!! You have to mix them together using circular motions, this helps to make the scrub beads rounder as some of them have got sharp edges which isn't gentle to your delicate skin!
Prior to this, I haven't tried Korres products before. You know I have backups for almost every other skincare or makeup product but certainly not face scrub. I think it's because I ain't that fond of it personally. In fact, i prefer peeling gels to face scrub as they are so much more gentle to the skin.
When I was trying Korres Thyme Honey Cleansing Scrub out, I wasn't having too high hopes. I was like, "Ah, this is probably gonna be.. meh or maybe its just gonna just be like my good ol' trusty St Ives Apricot Scrub". To my surprise, the scrub beads in Korres Thyme Honey Cleansing Scrub is very very fine which I think is gentle enough to be used twice, if not thrice a week!
The only con would be that since the scrub beads are smaller in size, you would have to dispense more product to get the same effect. Smell wise, it is pretty much acceptable, not too over the top or anything like that.
The packaging that it comes with reminds me so much of Pearlie White Toothpaste! It comes in a convenient size of 16ml which makes it ideal to be part of your travel essentials without taking too much of your luggage space, no?
While at Korres store over at Ion Orchard, I spotted this..!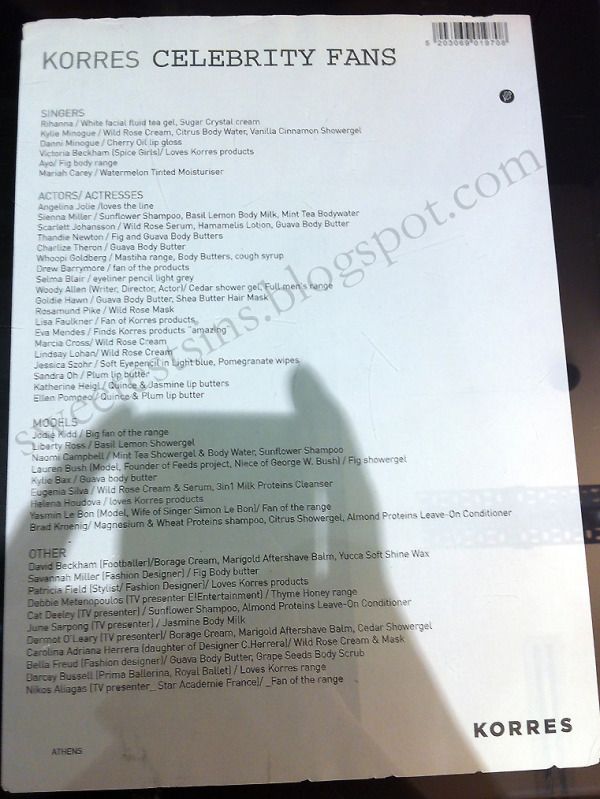 Even celebrities love Korres!
This week has been quite a long week for me at work. Plus, I'm currently having red eyes. Definitely not a good sign.
Meanwhile, do stay tuned because I'm trying my best to work on more blog posts!
Love,
Patricia