Sexylook Hello Kitty Strawberry Perfect Hydrating Mask
Friday, May 11, 2012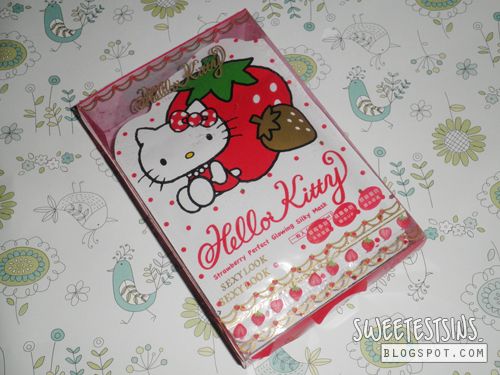 Don't we all love cute packaging? I'm a sucker anything that has got Hello Kitty on it. I mean, I used to really love Hello Kitty when I was in Primary school and I have almost everything in Hello Kitty from stationery to bedsheets, you get the gist.
I think it was about a year ago when beauty brands started getting the licenses from Sanrio and begin to incorporate Hello Kitty into their packaging that got me all hooked on Hello Kitty again.


Sexylook Hello Kitty Strawberry Perfect Hydrating Mask is one of the facial masks that I have tried out recently and I must say that I love it! Read on to find out why I love this stuff.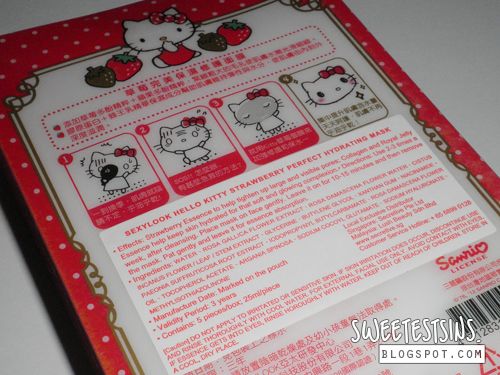 Product claims:
Hydrate your skin with this lovely Hello Kitty Perfect Hydrating Mask.
With strawberry essence that works to shrink your pores. Royal jelly enriched to hydrate and keep your skin supple! Collagen helps you achieve youth complexion.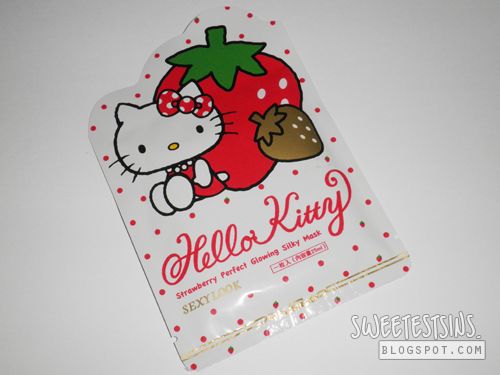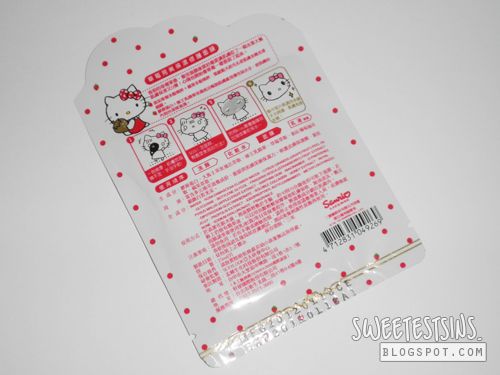 My thoughts:
I used this facial mask daily for 3 days in a row and it didn't break me out. You know some facial masks that are richer in content tend to break me out if I were to use it consecutively for 2 days. Hence, I think that Sexylook Hello Kitty Strawberry Perfect Hydrating Mask is mild enough for daily use.
It actually reminds me very much of My Beauty Diary Strawberry Milk mask - from the packaging that has got Hello Kitty on it to its strawberry scent.
It helps to brighten up my skin tone, which is visible after each use. Moisturizing wise, I think it does a fairly good job. I also realized that it helps to reduce my pore size by a little. Now, please tell me I'm not the only one whom is into reducing pore size!
Rating:
Moisturizing: 3.5/5
Brightening: 4/5
Reducing pore size: 3/5
Repurchase: Definitely yes!