Love More Electric Ore Peptide Firming Duo Lifting Mask
Monday, May 14, 2012
Product claims:
Japan Mino Green Miracle - collected from Mount Mino, Japan, Electric Ore is capable of deep penetrating your skin to give it a energy boost, increasing your skin's essence absorb-ability.
Gravity defying with diamond-checkered mask sheet! Care for your neck and chin with special ear-hook. Multi-Peptides, Co Q10 and SYN-AKE Serum give you a spa-like luxury facial pamper. Skin is now smoother and firmer!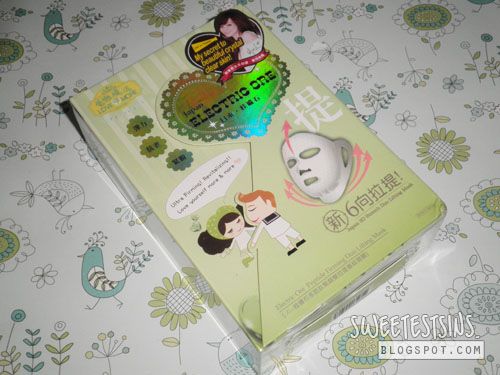 Click to enlarge!
My thoughts:
Prior to receiving Love More Electric Ore Peptide Firming Duo Lifting Mask for review, I did try it out once previously when it was given to me by a friend. As it was quite some time ago, I can't really remember the after-effects.
The essence didn't drip while I had the mask on my face and I could write this blog post while masking!
What differentiates Love More Electric Ore Peptide Firming Duo Lifting Mask from other masks is that Love More Electric Peptide Firming Duo Lifting Mask sheet is in diamond checkered shape (see picture below). I love how the ear hooks ain't too tight for me as those that are tight usually make me feel very uncomfortable and I might even end up having a headache.
Cons wise, I have to say that the nose area is too small to cover up my whole nose.
I noticed that my skin looked clearer and also felt slightly firmer after masking. Moisturizing wise, it doesn't do such a great job as I find that it makes my face slightly dry after I washed the remaining essence off the day after.
Firming: 3/5
Moisturizing: 2.5/5
Translucent look: 3.5/5
Ease of use/comfort level: 4/5
Overall rating: 3.25/4
Repurchase: Maybe