Vanitytrove April 2012
Sunday, April 29, 2012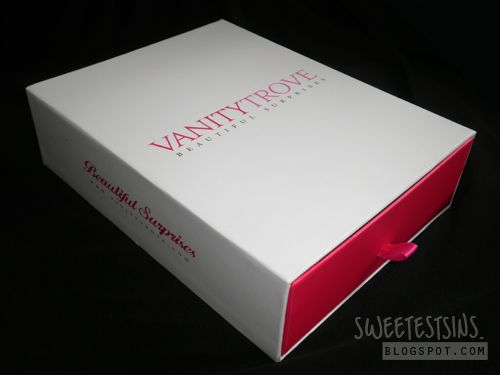 My very first Vanitytrove!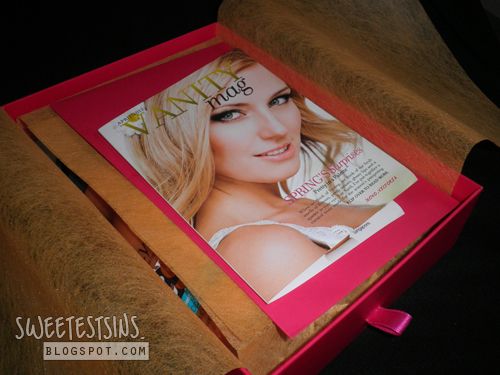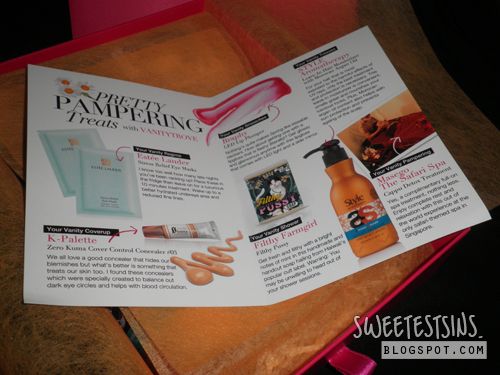 Style Aromatherapy Moroccan Argan Hair Moisturizer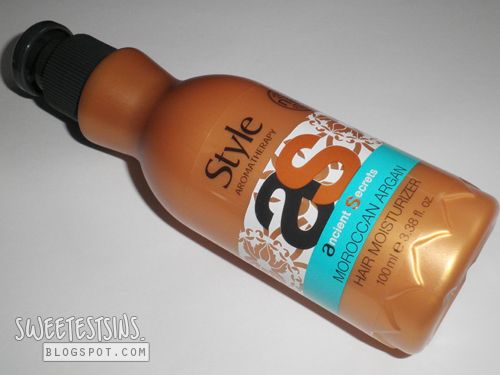 Even before Vanitytrove April box, I was introduced to the brand, Style Aromatherapy at Style Aromatherapy: Lady, You've Got Style Media Event previously. I have tried Style Aromatherapy Everlasting Color Protector Leave-in Hair Moisturizer for Highlighted Hair and I love it! Its fuss-free and you could do a bit of styling with it or even sleep with it without having to worry about your hair condition thereafter!
Style Aromatherapy Moroccan Argan Hair Moisturizer smells not too bad. Love the fact that its in a very handy size. I'm still debating whether I should keep it in my handbag or bring it to office to add on to my mini vanity at the side of my cubicle.
Braphy LED Lip Plumper
I have yet to try this out but I will update again once I have tried it.
I don't know about you all but I prefer lipsticks over lipglosses. For that perfect water shine lips, I like to apply lip balm > lipstick > lipgloss (only in the middle part of the upper and lower lips).
Filthy Farmgirl Filthy Pussy Soap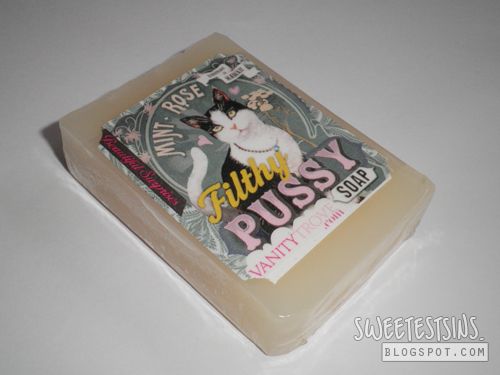 Ingredients:
Saponified Coconut oil, Saponified Palm oil, Saponified Castor oil, Saponified Safflower oil, Kosher Vegetable Glycerin, Purified Water, Beeswax, Rose Butter, Shea Butter, Peppermint Essential Oil, Palmrosa Essential Oil, Rosewood Essential Oil, Sorbital, Sorbitan Oleate, Soy Protein.
My thoughts:
I was attracted to the scent of this soap bar while I was preparing to take photos of Vanitytrove April 2012. Initially, I didn't realise where the scent was coming from until I took the soap bar up to photograph it and I knew I had to try it immediately.
I have been using this soap bar for more than a week and so far, I'm lovin' it for its scent. The only downside would probably be that it might be a little drying but then again, that's always the case for bar soap and I guess there's nothing that a pump of body lotion can't salvage.
Rating:

★

★

★

★

☆
K-Palette Zero Kuma Cover Control Concealer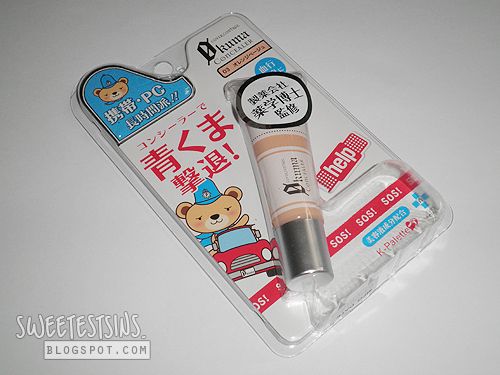 Product claims:
Say goodbye to Dark Circles, Skin Discoloration and Fine Lines! K-Palette Zero Kuma Cover Control Concealer works to hide undereye dark circles, skin discoloration and fine lies naturally and flawlessly. After applying, your eyes will instantly look more awake! This long-lasting, lightweight eye concealer is also formulated with beauty serum to care for your sensitive eye areas while concealing your eye imperfections. Dark circles + Dull skin and pigmentation? Your saviour concealer - 02 Yellow Beige Zero Kuma Concealer (02 Yellow Beige) has a light shade that works wonderfully to cover dark circles caused by pigmentation or skin dullness. It contains brightening ingredients Vitamin C Derivative, Chamomilla Recutita Extract and Prune Extract.
When my cousin, Si Ling first saw this concealer, she was so excited about it and I myself got carried away due to its cutesy packaging. Thus, I gave K-Palette Zero Kuma Cover Control Concealer to Si Ling since I don't really use concealer on a regular basis. I will post an update on this once she gives me her feedback on it.
Estée Lauder Stress Relief Eye Mask
Product claim:
A revitalising, 10-minute mask treatment for the vulnerable area under the eye, diminishing the look of puffiness and signs of fatigue. A targeted concentration of anti-stress and anti-fatigue ingredients relax and refresh the appearance of skin around the eye. Helps prevent moisture loss. Gives additional moisturisation to dehydrated skin. Puffiness around eyes is visibly reduced.
Since I suffer from syringoma, I avoid eye products so I passed these eye masks over to my Aunt whom said that she has got very bad undereye circles.
I think that beauty subscription boxes are fun in the sense that you get to discover new products or brands. Even if it contain products that you don't fancy, you can always pass it to your friends or family. After all, sharing is caring!
I hope you like this post. Thanks for reading!
Love,
Patricia
Disclaimer: Vanitytrove April 2012 was provided to me for consideration.