Fancl Mild Cleansing Oil in Limited Edition 'Cupid' Design
Monday, February 13, 2012
FANCL unveils its bestselling Mild Cleansing Oil in a limited edition 'Cupid' bottle design by acclaimed Japanese textile designer, Masaru Suzuki.
Dressed in a dreamily soft shade of blushing pink, the bottle features an adorable motif of the well-loved winged angel in a vibrant berry hue, topped off with fluttery wings in cream. Showering sweet blessings of love with a colourful bouquet of cascading floral blooms, the 'Cupid' design aptly captures the ethereal and light-hearted feeling of being love-struck and that heady sense of bliss when we get swept off our feet.
What is it:
Suitable for all skin types, it completely removes tough, long-lasting makeup like foundation, mascara and lip colour. With thorough precision, it gently and effectively leaves skin with improved clarity and smoothness.

Despite being an oil-based product, FANCL's Mild Cleansing Oil does not leave behind an oily residue as each oil particle is encapsulated in nano-sized molecules which wash away easily. After a rinse, pores are left clean, clear and refreshed without any remaining traces of makeup or oily residue.
I'm sure that Fancl Mild Cleansing Oil ain't unfamiliar to you girls. In fact, it is the first cleansing oil that I purchased and have repurchased a few times when I first started applying makeup.
The regular packaging of Fancl Mild Cleansing Oil is green in color which probably wouldn't catch your attention. But how can you not fall in love with Fancl Mild Cleansing Oil in Limited Edition 'Cupid' design by Japanese Textile Designer, Masaru Suzuki?
Its so floral, girlie and it is in pink! Everything that spells girly!
Plus, there's also a 20ml Mild Cleansing Oil that comes with it.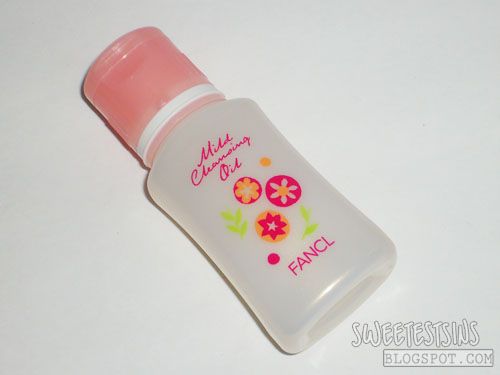 Not forgetting that even the sticker that you write the start and end date of the product is also in pink!

Directions:
Pump 2 times (or about 50-cent coin size) on dry palms. Smooth oil over face and gently message into makeup. Rinse thoroughly with water.

And now we put 3 different point make up (mascara, gel liner and lipstick) that I use on a regular basis to the test!
I poured a drop of Fancl Mild Cleansing Oil on top of the mascara, gel liner and lipstick swatches and massaged in circular motions as shown in the picture on the left below. For Fancl Mild Cleansing Oil, less is more. You only need a bit of the product and it is enough to cleanse your face.
After rinsing with water, almost all traces of makeup were gone! To be safe, always follow up with your regular cleanser.
Cleansing ability: 4/5
Easy to rinse off: 4/5
Skin not stripped of moisturize: 4/5
Overall Rating: 4/5
Be careful not to let Fancl Mild Cleansing Oil go into your eyes because it will sting and make your vision become cloudy.
Fancl Limited Edition Cupid Mild Cleansing Oil retails at $33 for 120ml and comes with a complimentary 20ml Cupid Mild Cleansing Oil. Available at all Fancl outlets while stocks last.
Diclaimer: Products were given to me for consideration.