A Brow Cadabra Party with Pink Parlour + Giveaway!
Monday, December 26, 2011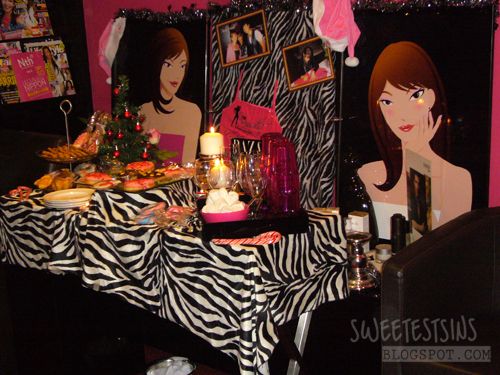 On 9 December, I attended Pink Parlour's - A Brow Cadabra Party over at Pink Parlour, Orchard Central.
I must say that the entire venue was very nicely done up. I mean, look at how much attention they pay to tiny details.
And of course, there are yummy treats for us!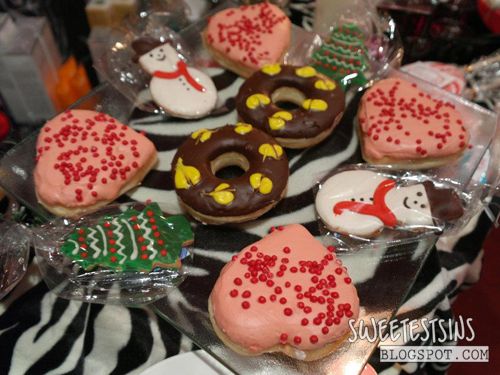 Christmas-themed sweets
There were cushions and it was super cozy and relaxing.
And then I spotted a chandelier! Its so pretty! There are also pretty snowflakes hanging on it!
Before the event, we were sipping champagne while helping ourselves to the chocolate cookies.

Mint, Wendi and Me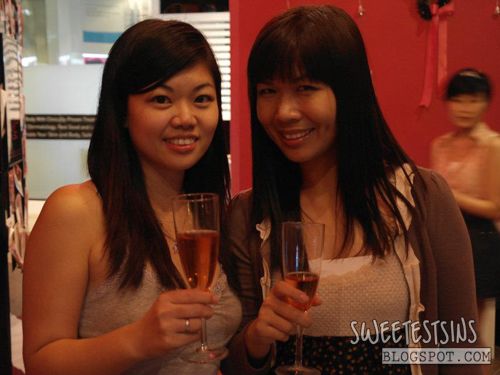 Mint and me
When Mint introduced herself, I was like, "You know Silver right?" Apparently, I met Silver at an event and Silver was telling me that she's waiting for Mint to go down to the Singha Full Moon Party together. If not for the fact that my friends were already at Clarke Quay the other time, I would have met Mint earlier. Mint has really nice, big eyes!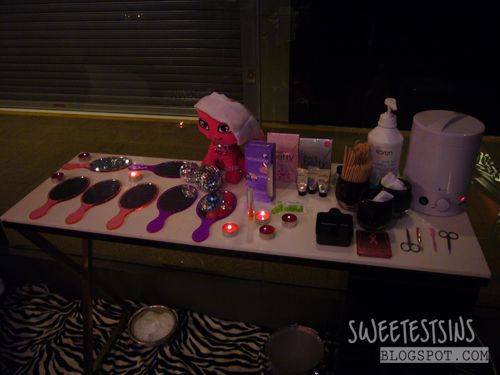 Mirrors and grooming tools
Guess who is making us laugh?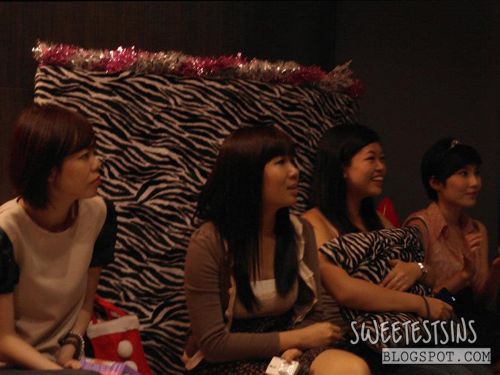 It's Wendi! She's telling us the dos and don'ts for eyebrows.
After that, she showed us how we can groom our eyebrows ourselves at home and Melissa was her model.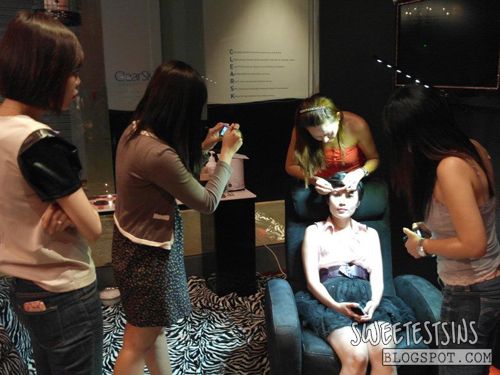 It was pretty insightful because I have never ever trimmed my own eyebrows because I thought that it would be better to leave it to the pros. At the very most, I just use a tweezer to pluck out spray or excess hair but it turns out that maintaining your own eyebrows ain't that difficult afterall!
As usual, while others could watch the demostration with 100% attention, I was stealing quick glances at the demostration while jotting down notes on my iPhone with regard to tips that were shared. So if you happen to see me typing on my iPhone the next time, do note that its not that I'm not interested in what the presenter is saying but rather, I am jotting down notes so that I can share these beauty tips with my readers. After all, I hope that I can spread beauty knowledge across to as many girls as possible.

I will be separating the beauty tips instead of lumping them together so that the post will flow better. Here's the first one!
Tip #1:

Using an eyebrow comb, comb up and down and cut off excess hair with a pair of curved scissors.
While I have tried eyebrow trimming (plucking and shaving) and threading, I have never tried eyebrow waxing.

To my amazement, eyebrow waxing didn't hurt as much as I thought it to be! Probably its due to the fact that Wendi was super fast in pulling the strip.
The benefits of waxing are:

- Removes dead skin
- Last longer as hair growth would be slower compared to eyebrow plucking and threading.

Here's how my brows look like after eyebrow waxing. Its super clean right?


Mint was like, "Patricia, your brow area look so clean after waxing!"
While waxing has got several advantages over traditional threading and plucking, it's not for everyone, especially those whom have sensitive skin.

Next, Wendi demonstrated color tinting of the brows on Fai. If you have colored your hair blonde or red and wants your brows to match your hair color, now you know where to head to!

Of course, before tinting Fai's eyebrows, Wendi started off by using the wax wand to get rid of stray hair.

Apply wax from wax wand by twisting the top.

Tip #2:

Warm the wax wand up by rolling it in between your palms.
1) Apply wax on top of the area which has got excess hair.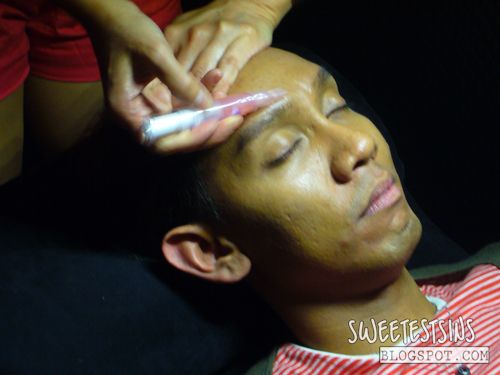 2) Place a clean strip on top of the wax and press it down firmly in the direction of hair growth.
Tip #3:
Pull the strip up fast, against the direction of hair growth for a clean finish.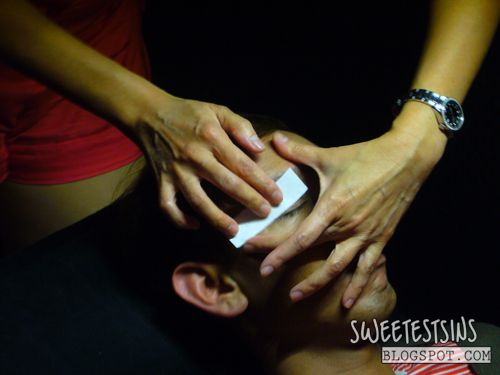 3) Apply brow tint and wait for half an hour.
And here's how Fai's brows look after 30mins!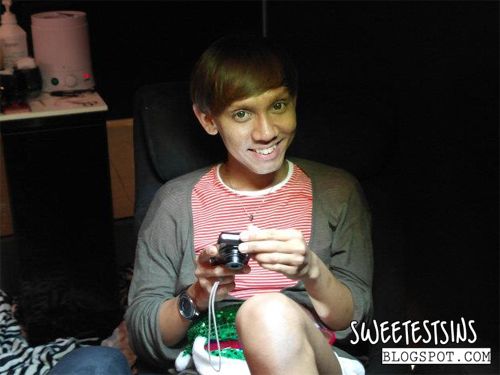 Look at how happy he is with his new brows!
Remember, you should not have oil or moisturizer on your skin prior to waxing if not it won't be effective.

Tip #4:

For best results, spread a thin layer of wax instead of a thick layer.
Tip #5:

To soothe redness or calm skin after waxing, remember to apply calming lotion.
Last but not least, here 2 very lovely pictures of all of us. Couldn't decide which was better, hence I decided to put both up!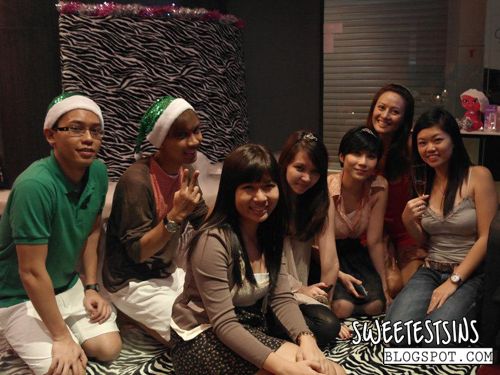 Of elves and princesses (spot the tiaras)!
I had so much fun that day! Special thanks to Melissa for having me over and Wendi and Pink Parlour staff for hosting us. They are all super friendly!

And now, the moment that all of you have been waiting for!
Want to taste the champagne that we had that day? Or perhaps try eyebrow waxing at the comfort of your home? Now you can! One lucky reader will get to take home a goodie bag which consists of: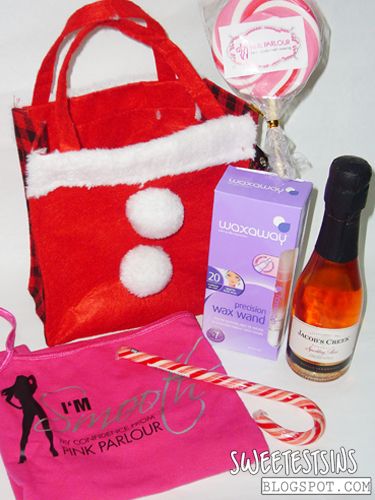 1) Waxaway Precision Wax Wand
2) Jacob's Creek Sparkling Rose 200ml
3) Pink Parlour $10 off any treatment voucher (not pictured)
4) Pink Parlour Spaghetti Top
5) Candy Cane
6) Lollipop
Due to the nature of the giveaway prizes, this giveaway will only be open to Singapore readers and collection of the prizes will be via meetup.
To join this giveaway, simply:
1)
'Like' SweetestSins
on Facebook
2) 'Like' this post on SweetestSins Facebook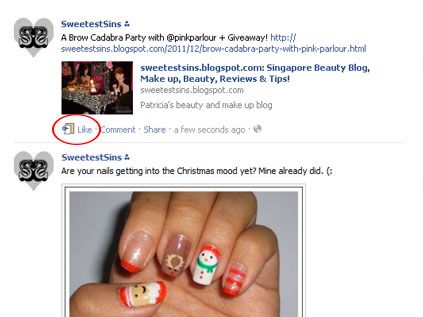 For additional chances,
3) Share about the giveaway on Facebook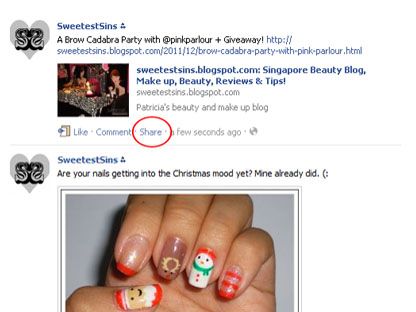 4) Tag yourself in the picture of the prizes for this giveaway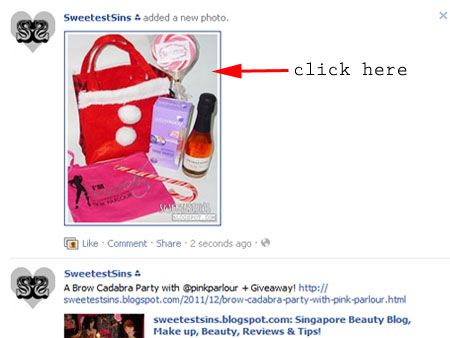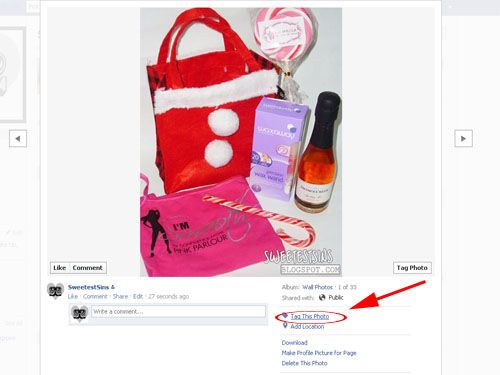 *Both 1 & 2 are mandatory, while option 3 & 4 gives you additional chances to win.
Giveaway will end on 5 January 2012.
Good luck girls! (:

I hope you like this post. Thanks for reading!

Love,
Patricia

To be notified of the latest beauty news, launches or events, follow me on


or like SweetestSins on