Pantene Beauty Roundtable
Tuesday, September 20, 2011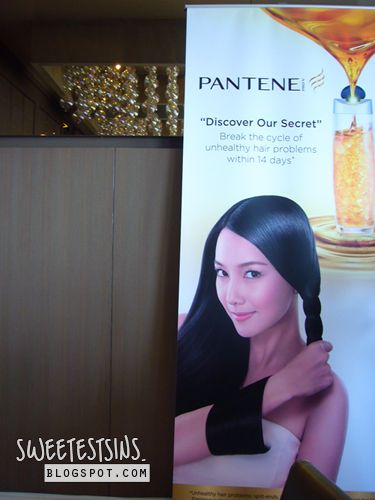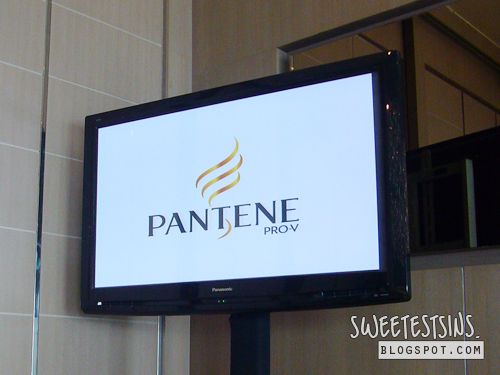 Hands up if you have tried any of Pantene's products at least once before. I'm sure many of you have as Pantene is one of the most common brand that most households would purchase.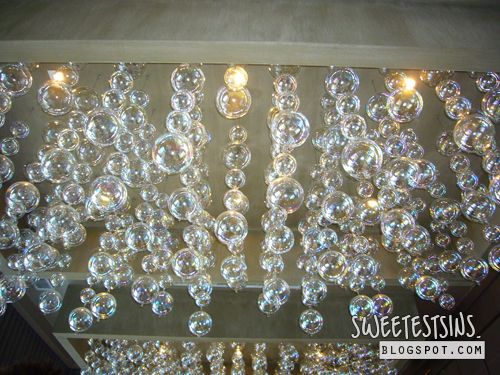 Lovely bubbles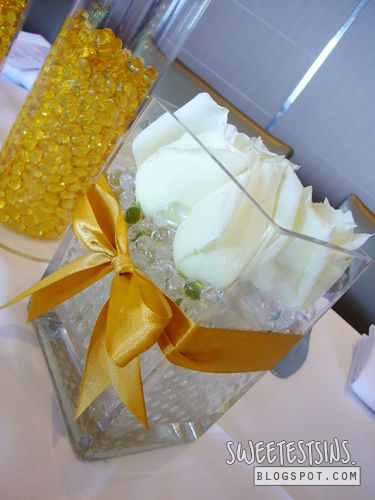 ♥ those white roses!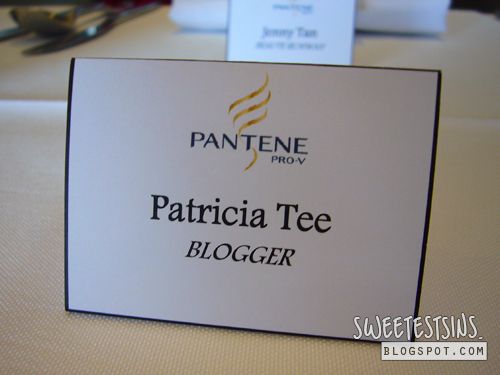 Last Tuesday, I was over at Stellarat 1-Altitude for Pantene's first ever beauty roundtable in 5 years. It was pretty insightful as I got to know tips from beauty experts and hair stylists on the latest haircare.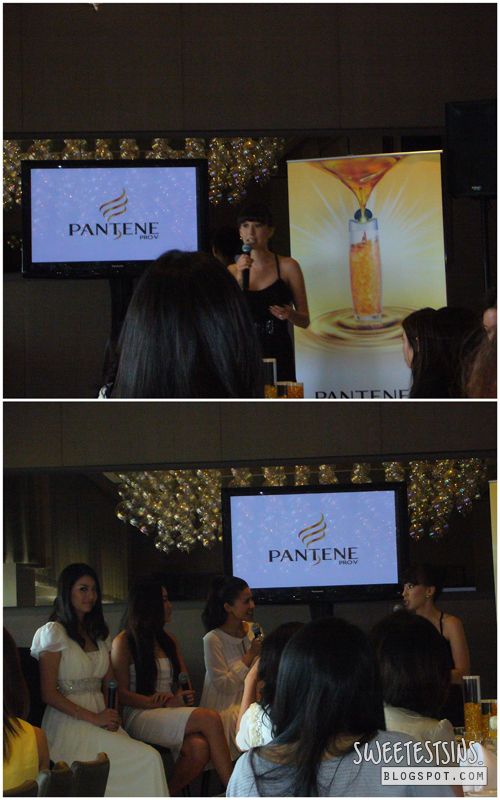 From left to right: Genecia, Velda and Jessica
It began with Jessica, Velda and Genecia sharing about their hair woes and how they managed to solve them by using products from Pantene.
Genecia mentioned that she doesn't like her hair after having it rebonded as the crown area is very flat with no volume. Hence, she said that she tried Pantene Nature Care series and it helps to create more volume at the crown area. It does sound promising, ain't it? I face this problem of my crown area being super flat at times and I absoultely hate it.
Apart from that, I have thick and frizzy hair hence I really envy those girls with super smooth and lustrous hair. Speaking of which, I have been rather obsessed with shiny hair hair that shines lately. Don't you all think that hair that shines look healthy?
Before we knew it, the chef's taster of the day and our salad was served.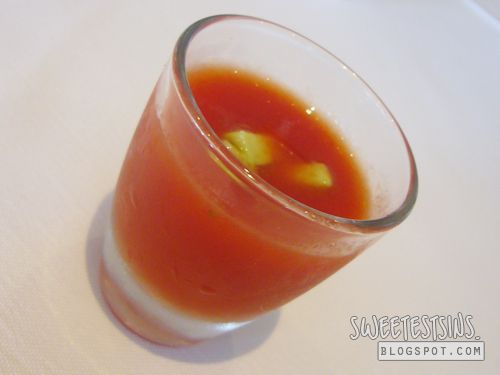 Chef's taster of the day
This tasted rather fiery, somewhat like tobasco with celery and probably with capiscum as well. Kristen was saying that it taste like Bloody Mary.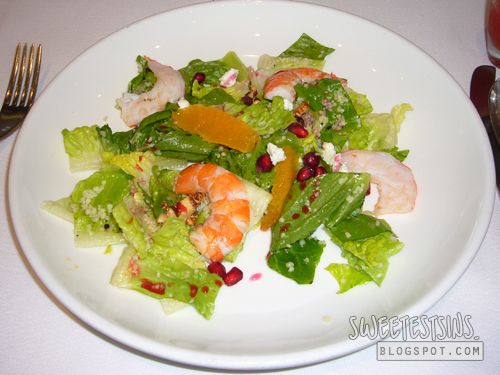 Tiger prawn salad with couscous, pomegranate, mint & Persian feta
And next, we had a hair stylist (of whom I didn't catch his name) to share with us his insights on hair care.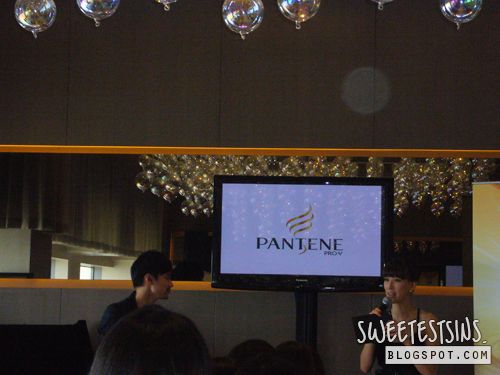 He mentioned that damaged hair actually limits the kind of hairstyle that one can choose from during a haircut. On top of that, he said that he often asked by many if hair styling tools or hair dryers that claims that they have ionic technology works. His answer was that it works differently on different people.
I have a hair dryer with a ion button. I realised that my hair look more shiny and feels smoother when I blow dry it while pressing the ion button compared to if I don't. But then again, its probably just me. Do share with me if you have used any hair tools that contains ionic technology and your views on it.
I was seated with fellow bloggers, Kristen, Nicole and Jenny (not in the picture below) during the event.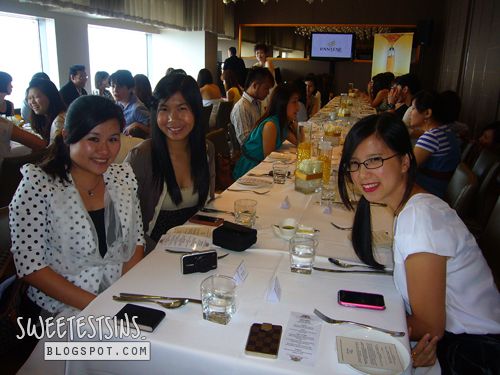 From left to right: Kristen, Me and Nicole (rockin' the red lipstick look!)
Our soup and main course was served next.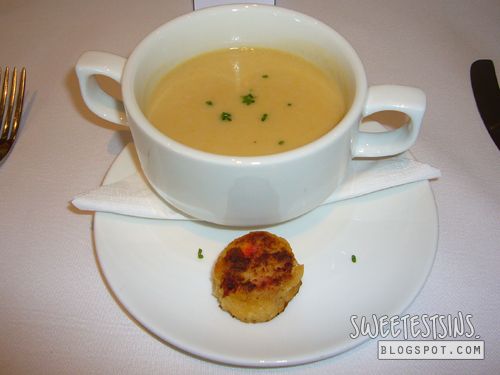 Sweet Corn Soup with Crispy Duck & Potato Cake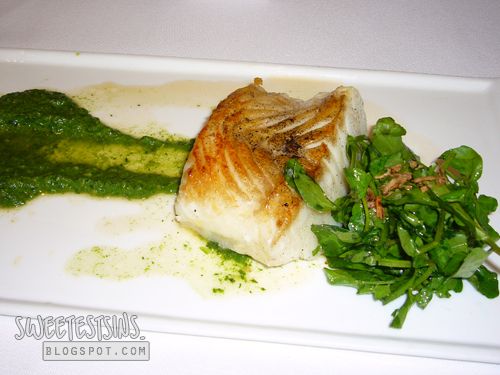 Roast Black Cod with Spinach & Almond Puree,
Crispy Shallots, Watercress Salad & Beaujolais Sauce
Before I tucked in, Jenny was saying that I should take a picture with my food. And so here it is!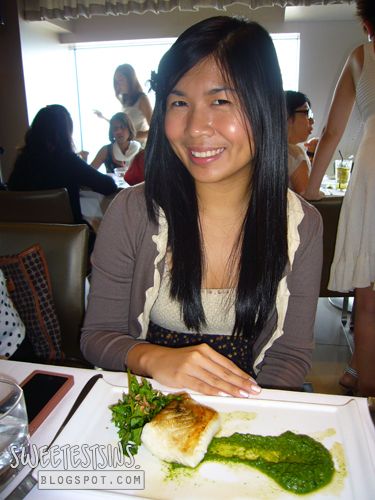 I don't know if its me, but I realised that I tend to shy away from solo pictures more as I grow older. Its not that I'm camera-shy but its just that group pictures are more memorable and perhaps I don't want to be reminded that age is really catching up on me?
Pantene has this CSR campaign whereby they will donate clean drinking water to communities in need for every person that signs up for Pantene's 14-day Flag Off Challenge to break the cycle of unhealthy hair.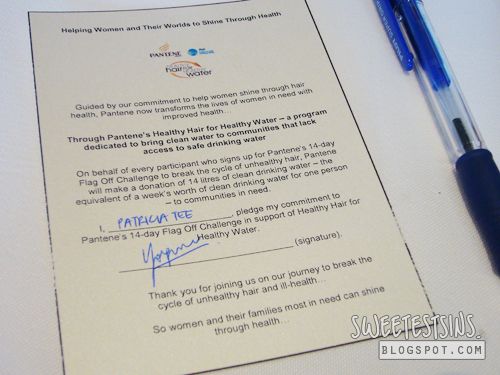 And I did my part by signing up for it to help the needy.

Come to think of it, its not just CSR for Pantene but for SweetestSins as well, ain't it?
And here's a picture of Jenny whom I met through a previous event. She's really nice and friendly.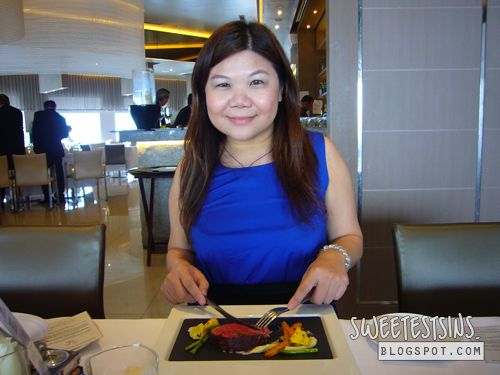 She had super juicy lips that day and when I told her about it, she said that she's using lipgloss from Fancl. Her lips looked even more juicy compared to Lancome's juicy tubes can?
It's desserts time!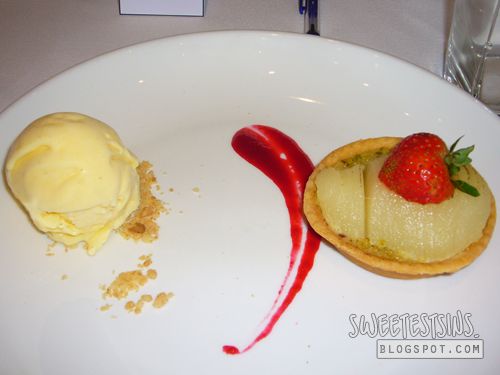 Pistachio Pear Tart with Vanilla Ice Cream & Raspberry Coulis
Took another picture before leaving with Jenny.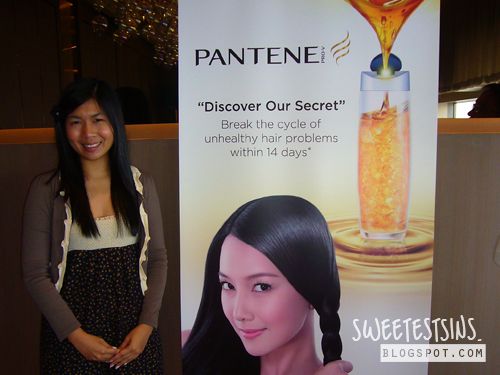 How I wish my hair was as silky as the model's in the poster!
And of course, a few breaktaking pictures of Singapore!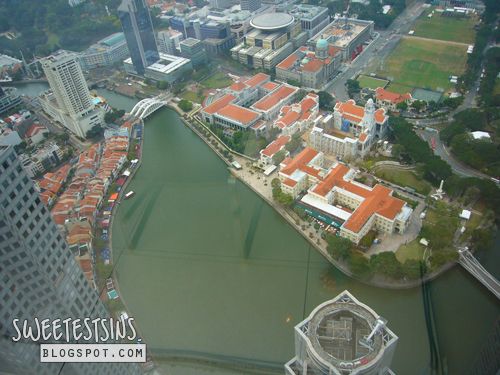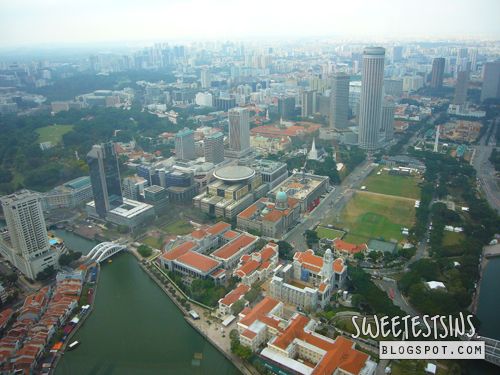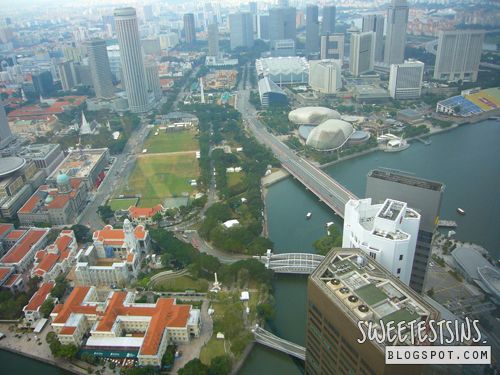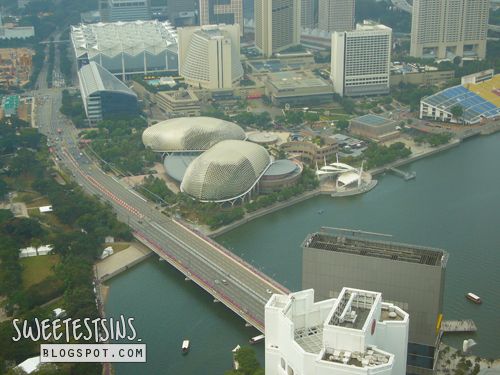 Pantene has two new additions which I will unveil it together with the press samples that I have received as well as my questions pertaining to hair care answered by Dr Jasmine Karsono, P&G Principal Scientist herself which I didn't had a chance to ask during the event itself.
So stay tuned!

Thanks for reading.

Love,
Patricia