Makeover by Korean celebrity makeup-artist, Mr Park Min Hyuk at Laneige
Sunday, September 25, 2011
Last Saturday, Korean celebrity makeup-artist, Mr Park Min Hyuk was in Singapore so I went to the Laneige counter at Robinsons Raffles City to have a makeover!
I was so excited because... I am so in love with Korean dramas, I love Korean fashion and I love Korean girls' makeup!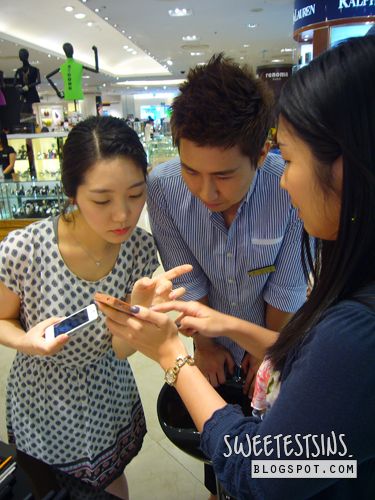 Guess what am I showing Mr Park and the translator, Julie?
I will reveal the answer at the end of the post, so stay tuned!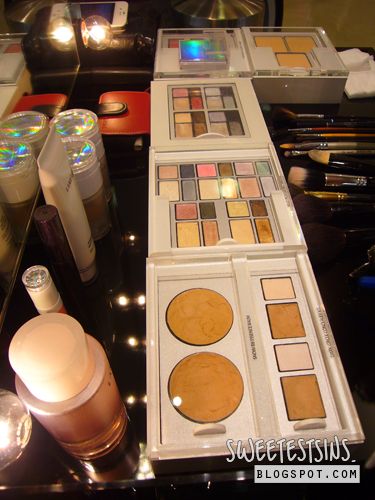 Lots of makeup!
I wish I had a vanity table like that at home, with the lights and all.
As I had base makeup with a bit of blusher and lipstick on, Mr Park begin by removing the traces of makeup that I had on my face.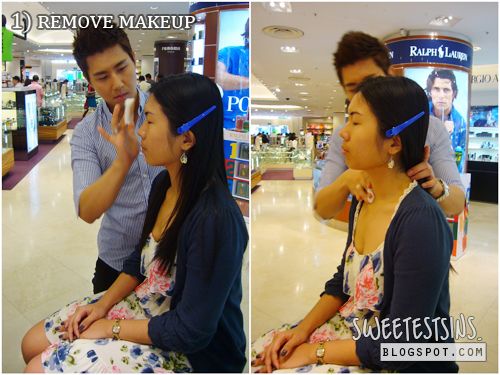 Then, he applied Skin Refiner (the equivalent to a toner) and massaged the entire face.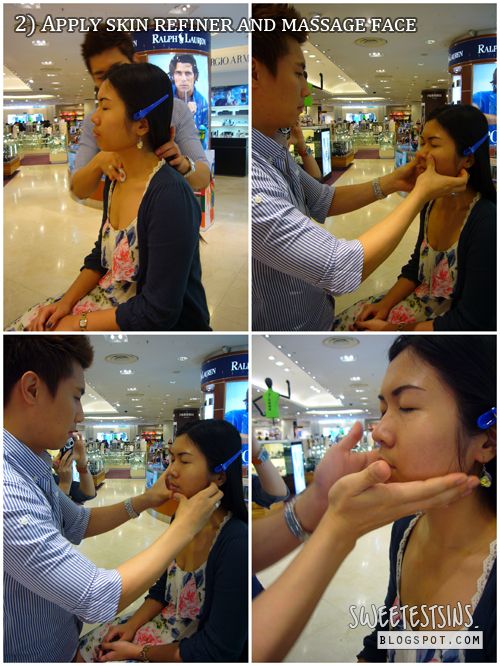 Did you realised that he did not neglect the neck and jaw area when he applied the skin refiner and while doing the facial massage? Remember, it is very important not to neglect our neck when applying skincare products if not the skin there will age faster!
I remember reading in a Korean forum that Korean girls believe in doing regular facial massages. They would incorporate facial massage into their skincare routine 2-3 times a week after cleansing to improve blood circulation, leading to glowing skin! That gives us more reasons to start including facial massages into our skincare routine, doesn't it?
After that, he started off by applying a makeup base, followed by concealer around my undereye area, sides of my nose and mouth and finished with liquid foundation and powder.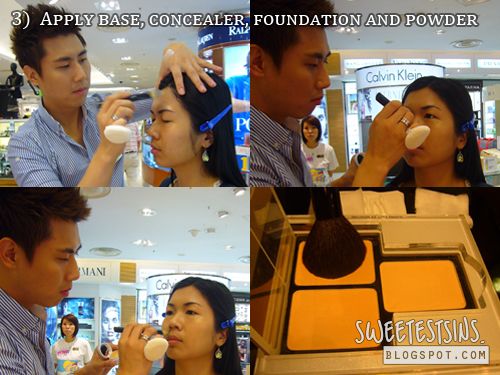 I was amazed at how patient Mr Park was in building up the base makeup. I mean, his brush strokes were so swift and he really made sure that he blended everything properly into the skin.
I realized that he applied the base makeup to about almost half of my neck area. I suppose that's why Korean girls don't look as though as their head and neck don't belong together due to the difference in the skin tone.
For me, I always make it a point to blend my foundation or BB cream and extend it at least a little after my jawline. Seems that I got to extend it a little further down to my neck to make it look more natural huh?
Here are the products that Mr Park used for the base makeup in case you're interested.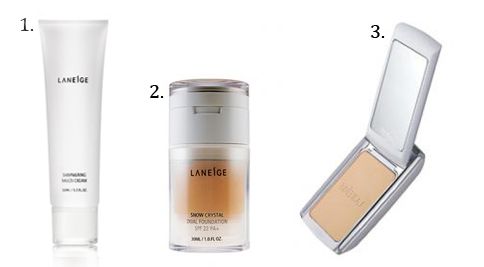 What are Korean girls known for? Their thick and innocent looking eyebrows! They emphasize a lot on their eyebrows.
Mr Park must have found something amissed when realized that he couldn't remove my eyebrow makeup. Julie was asking me if I had eyebrow tattoo done. I explained to her that I had eyebrow embroidery done. When I asked her if eyebrow embroidery is popular in Korean, she said that eyebrow tattoo is and it looks very natural as well.
She also told me that it is very popular for Korean girls to do eyeliner tattoo. I guess I will stop at eyebrow embroidery for now.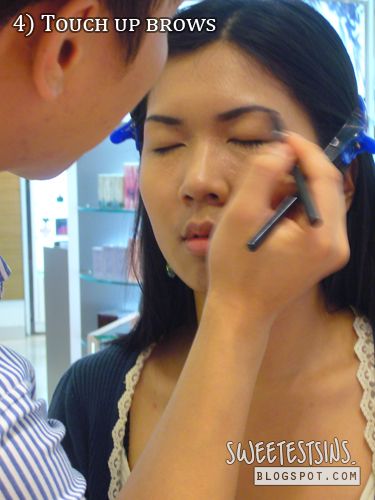 As I just had a touch-up session for my eyebrow embroidery, Mr Park merely darkened and made my brows thicker a little.
Then, he proceeded with point makeup.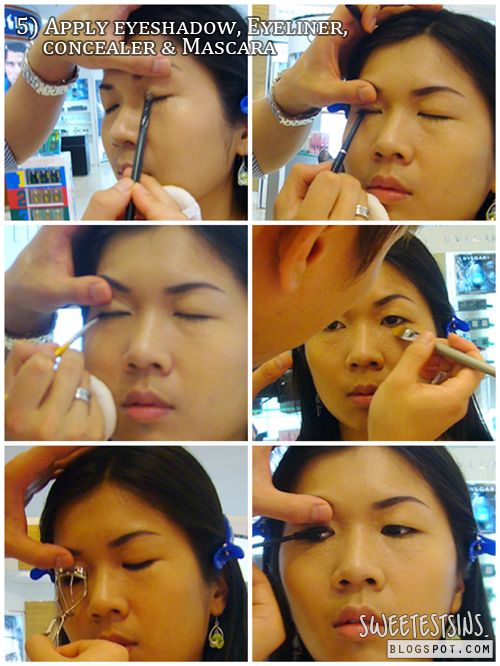 First, he applied champagne color eyeshadow followed by tight-lining my eyes with eyeliner. After which, he used a pencil brush with a little shimmery dark gray eyeshadow to soften the look. Then he applied more concealer at my undereye area before curling my lashes and applying mascara.
He curled my lashes 3 times (root, middle and end). I have very stubborn and straight eyelashes you see. I realized that after applying mascara, Mr Park would place his index finger on the end of my lashes for a while. I suspect that he did it to prevent clumping as well as to set the curl.
What's the first thing that comes to your mind when you think of Korean girls lip makeup? For me, its the just-bitten look that Goo Hye Sun spot in Boys Over Flowers.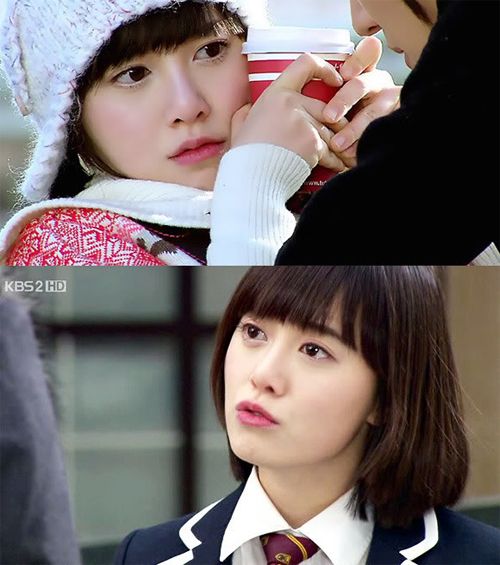 I remember that I was so into lip tints when the drama series was showing. I would apply lip tint only on the middle of my top and bottom lip as shown in the picture below in an attempt to achieve Goo Hye Sun's lips.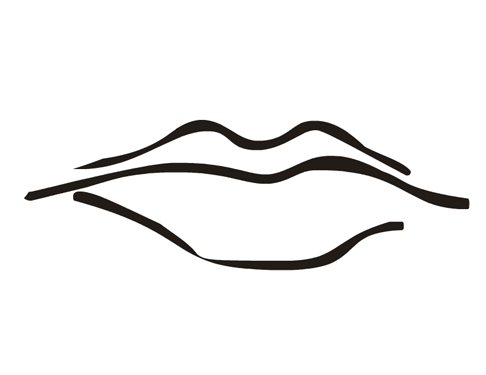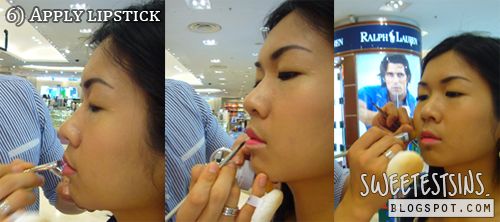 For the lips, Mr Park started off by applying a natural pink lipstick and adding intensity by layering a fuchsia pink lipstick over it and toning down the lip edges with concealer to make it less harsh-looking.
As for blusher, it kept to a minimal with a few swipes of light pink blusher.
So, here's the final look after the makeover!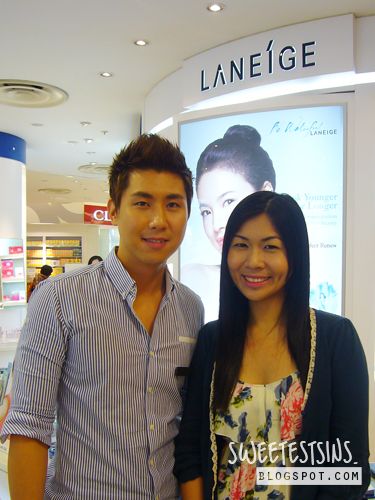 With Mr Park Min Hyuk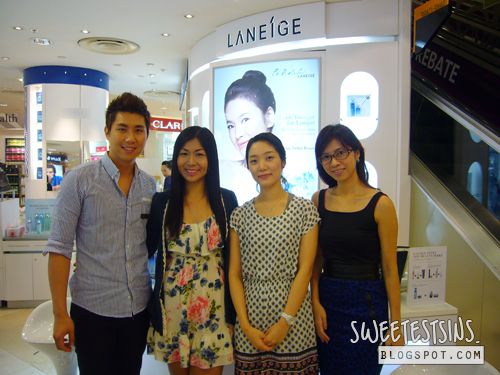 With Mr Park, Julie and Isabella (from Laneige)
Apologies for not posting close-up pictures for they are pretty blur and no amount of sharpening would salvage it.
Remember that I said that I would reveal what I was showing Mr Park and Julie in the first picture?
Well, here it is! A picture of Suzy from Miss A. She plays Hye-Mi in one of my favourite Korean drama, Dream High.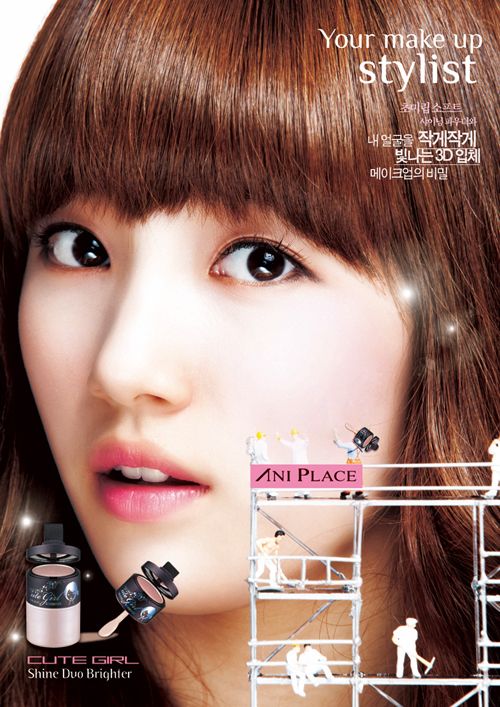 You might be wondering why would I show them a photo of Suzy. You see, Julie and Mr Park was asking me if I had any makeup look that I like in mind, so I showed them this particular picture of Suzy.
I love the minimal makeup that she had in the picture but yet her eyes still looks sharp. Hence, to quote Mr Park, he said that the makeup look that he created for me is inspired by Suzy and its a look that is popular in the Korean drama, Dream High.
Julie said that the makeup that Mr Park created on me is same as the one that Suzy had in the picture except that she has bangs. I was telling Julie that unlike Suzy I don't have double eyelids and that I feel like going for double eyelid surgery. When Mr Park and Julie heard that, they were both exclaiming, "No need for surgery! Just use makeup to make eyes bigger!" Lol.
I was telling Mr Park that he resemble Wooyoung from 2PM. Don't you all think so?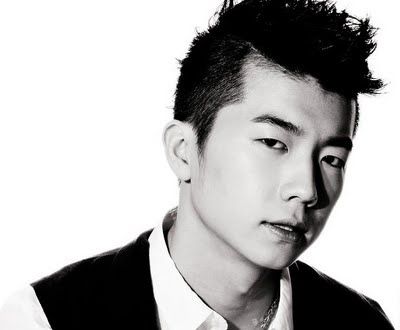 When I brought out my list of questions for Mr Park after the makeover, he was smiling when he asked, "Interview?"
Initially, I had close to 13 questions for Mr Park but I cut down to 6.
Q & A Session with Mr Park:
Q: What are the essential make up products that all Korean girls must have or can't do without?
A: BB Cream, Eyeliner, Lipstick, Mascara, Eyebrow Pencil and Blusher.
Q: Personally, I have combination skin and no matter how I blot, my T-zone would still be oily after a while and it looks rather obvious in photos. Do you have any tips to combat that?
A: Remove makeup on T-zone first, reapply foundation and powder.
Q: For girls with single-eyelids like me, we often feel torn whether we should use double eyelid tape prior to makeup application. Reason being, although double eyelid sticker makes our eyes appear larger, but somehow it makes eye makeup application more difficult, especially when blending or drawing eyeliner. What's your take on this?
A: Apply foundation on top of double eyelid sticker before applying eyeshadow so that it doesn't look that obvious.
Q: As I have syringoma around my eye area and I had it lasered off, so that area is somewhat lighter than the rest of my face. I have tried all kinds of concealer or foundation on it but it doesn't work. What would you recommend?
A: Use Laneige Make Up Primer Moisture prior to foundation and powder on the affected area.
Sidetrack a little, Julie told me that Korea hospital has the technology to even out the skintone of scars left by laser. I'm so gonna tell my Mom about it and probably research a little on that. You know this issue has been bothering my Mom and I for so many years.
Q: What is the current make up trend in Korea?
A: Emphasis on eye - eyeshadow in bright colors, more natural look instead of smokey eyes.
Q: What is one makeup product from Laneige that you believe all girls should try?
A: Laneige Snow BB Essence Balm which is actually BB cream in compact form so its really convenient to bring out for touch-up.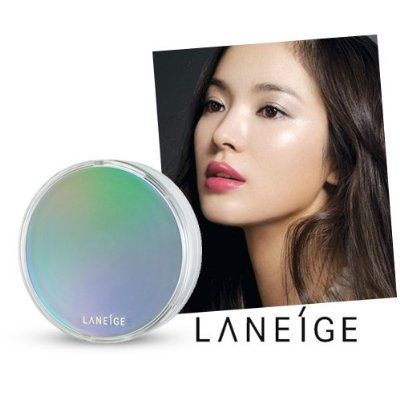 I'm a fan of BB cream and I have like 7 BB cream but I have never had a BB pact and I want one because its so convenient! Especially on days when I have to be out for the entire day and I have to touch up.
Thank you Joyce for having me down to learn not just a makeup trick or two but a whole new insight to Korean skincare and makeup techniques. As well as Mr Park, Julie and Isabella for making it happen.
I have with me some new products from Laneige to try out and I will post my thoughts on them soon so stay tuned!