Kate Blogger Event at Fuze@283
Wednesday, April 13, 2011
On 5 April, I attended Kate Blogger Event over at Fuze@283.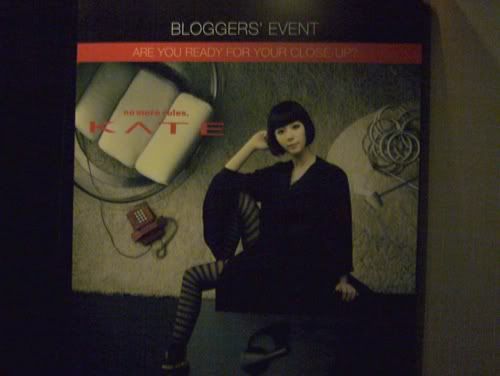 I must say that I was very excited when I received the invitation because I do own a couple of Kate products and I must say that I love them all! Contrary to popular belief, Kate has been around in Singapore for quite some time instead of late last year. I have been getting my Kate products previously from either OG or BHG. Now that they are readily available in Watsons, it gives me more reason to spend on pretty Kate makeup products!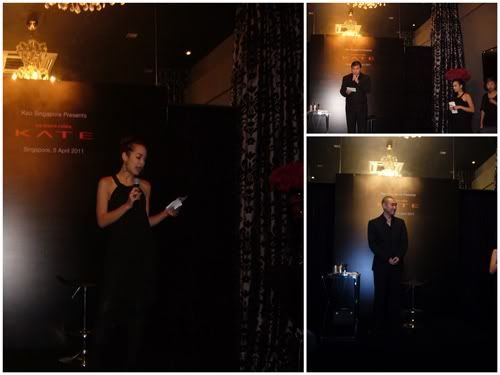 The MC of the day is Holly from MTV VJ. She's really tall and lanky, pretty as well! The event started off with the Kao in-charge whom shared with us some insights on how well Kate is doing in both Japan and Singapore. Next, the main highlight of the day - makeup demostration by makeup artist, Mr Mikiya Hirai whom specially flew in for the event.
As the model already had some makeup on, he blotted her face with a piece of tissue to blot away the excess sebum.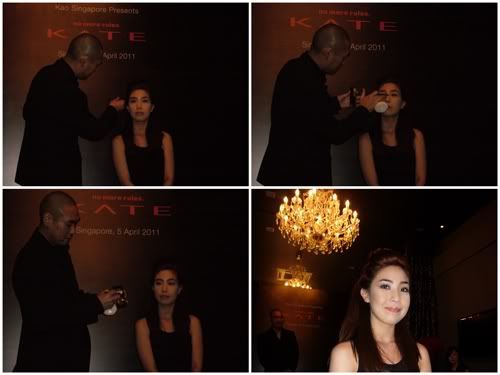 He first applied Kate Lasting High Coverage Powder Foundation on her face.
Next, he proceeded to fill in her brows with Kate Designing Eyebrow. He then mixed both the colors on Kate Eye Shadow DB (Dual-Blended) together and applied it on her eyes before using the darker eye shadow shade to line her eyes. Personally, I prefer using eye shadow to line my eyes because it gives a more gentle and soft look comapred to eye liner which looks more defined but at the same time, it can be a little harsh-looking. He also highlighted her brow bone with the lighter shade of eyeshadow. Next, he used the Kate Super Sharp Liner to line her eyes and applied Kate Volume Mascara FR.
He used a darker shade of Kate Full Coverage Pressed Powder UV to contour the model's face. This gives out a more natural look compared to using bronzers or contour powders. Next, he applied blush using Kate Cheek Color S. Following which, he highlighted her face using a lighter shade of powder foundation which gives a more natural look compared to using highlighters which normally comes with glitters/shimmers.
For the lips, he applied Kate Rouge EX and Kate Liquid Rouge N. He also applied powder along the model's lower lip line to define it and highlight her cupid's bow with the lighter shade of Kate Eye Shadow DB.
Products used: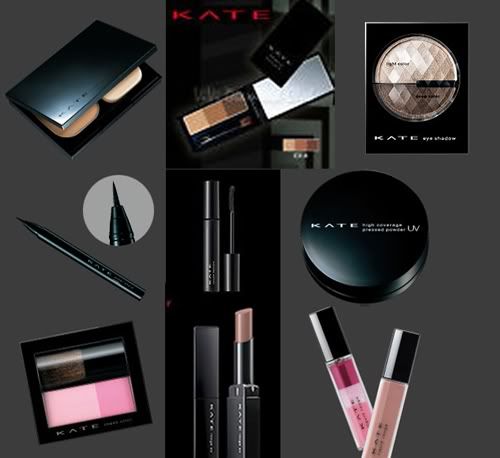 1) Kate Lasting High Coverage Powder Foundation
2) Kate Designing Eyebrow
3) Kate Eye Shadow DB (Dual-Blend)
4) Kate Super Sharp Liner
5) Kate Volume Mascara FR
6) Kate Full Coverage Pressed Powder UV
7) Kate Cheek Color S
8) Kate Rouge Ex Kate
9) Liquid Rouge N
Here is a close-up shot of the model. She's already pretty to begin with and even prettier with the makeup on. (: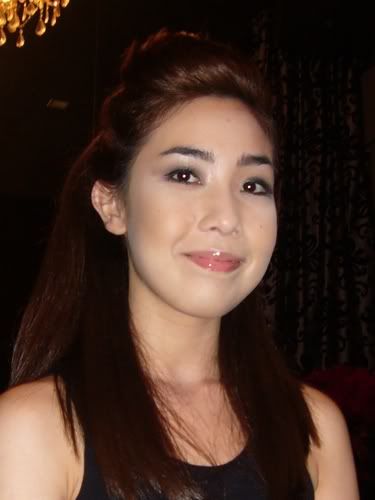 They even had customized cupcakes with Kate signature colors, black and red and Kate's Logo on it. So pretty, ain't it?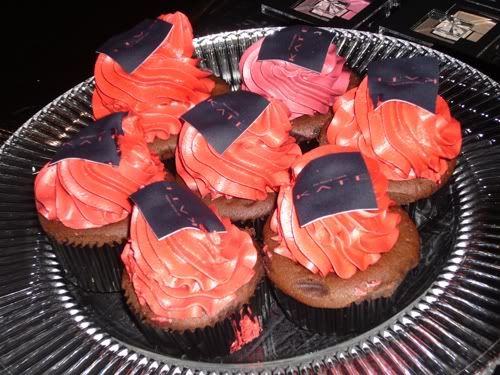 We were given some time to doll ourselves up with Kate makeup before our photo shoot. There were so much makeup that I didn't know where to begin with!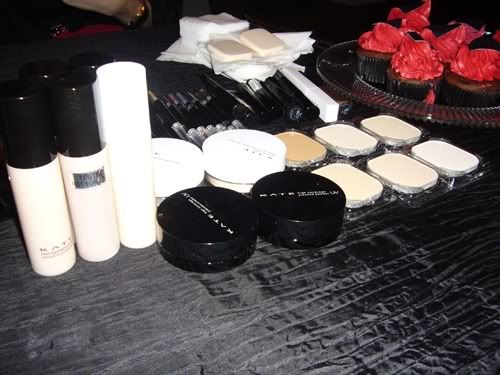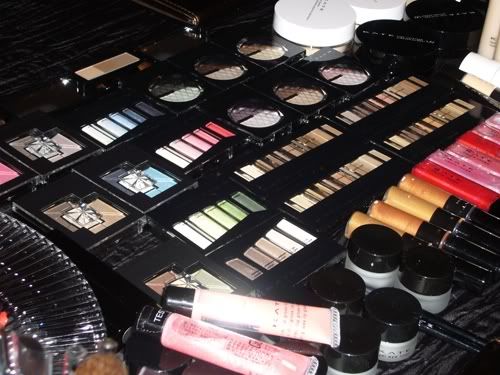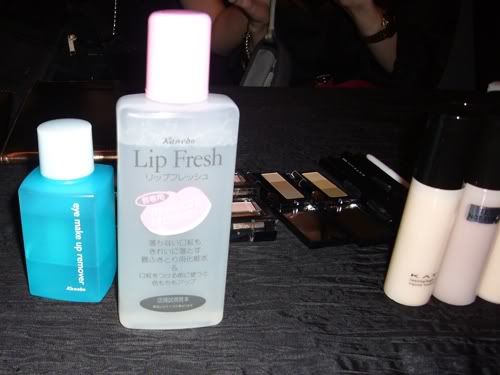 Check this out. Kate Eyeshadow DB which is really easy to blend. Great for beginners I would say!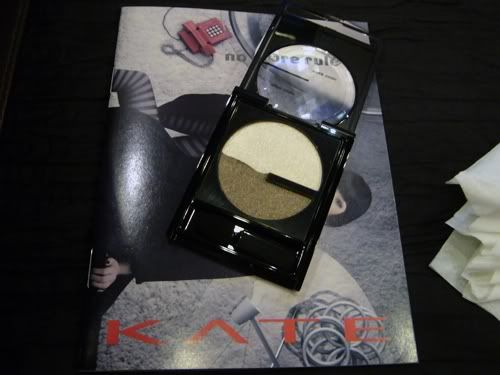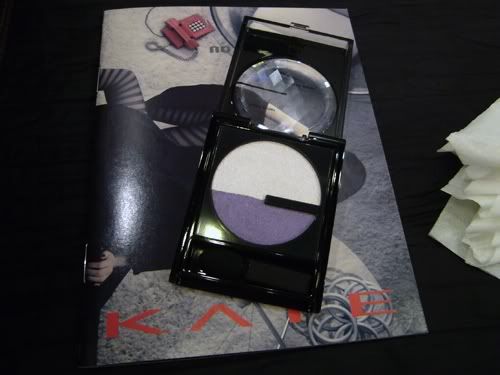 Here is what I came up with! My face of the day (FOTD).
I am really liking my thick eyebrows which I drew that day and Mr Hirai helped me with it.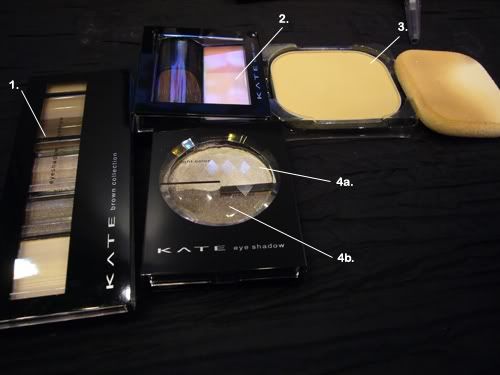 1) Kate brown collection (to fill in my brows)
2) Kate Cheek Color S (lighter color for highlighting)
3) Kate Lasting High Coverage Powder Foundation (for touch-up)
4) Kate Eyeshadow DB (Mix 4a and 4b for entire lid, 4b for lining the eyes and 4a for highlighting brow bone)
I have also applied 4a on the middle of my eyelid to make my eyes look brighter and larger.
Other products used (not captured on my camera):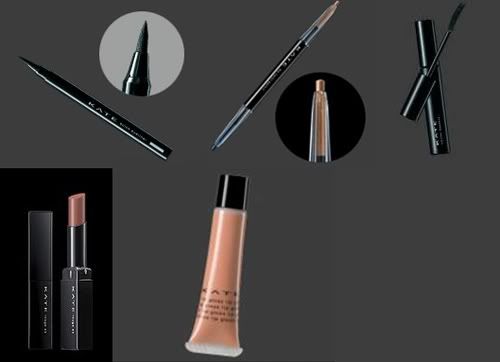 1) Kate Quick Eyeliner S in BR-1
2) Kate My Color Pencil N in BR-1 (for waterline)
3) Kate Volume Mascara FR
4) Kate Rouge EX Kate Lip Gloss S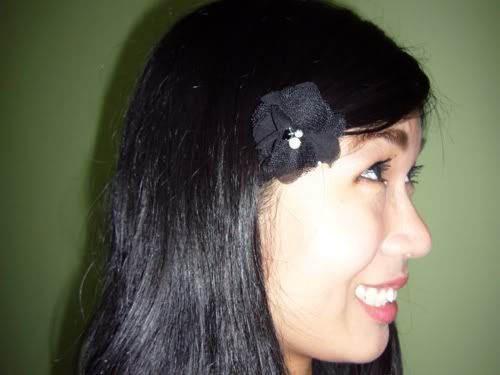 Check out how long my lashes are! And, I didn't even use a curler!
Some close-up shots of my eye of the day (EOTD).

I can't express how much I love Kate Volume Mascara FR. It curls, it gives me that volume and especially, LENGTH! You know how short my asian lashes are and so far, this is the only mascara that lengthens my lashes that much without using fibre or primer! Am so gonna grab one the next time I head to Watsons.
Here's what we get to take home with us.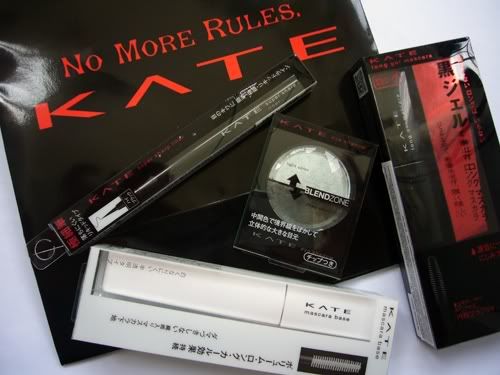 Thank you Kate Singapore for giving me these lovely goodies to add to my current Kate makeup collection! Can't wait to try this lovelies out, what say you? I had great fun over at Kate Blogger Event, I got to know a fellow beauty blogger,
Charlotte
.
I hope you like this post! If you enjoyed reading this post or love the posts on SweetestSins, please vote for me for Kate's Blogger contest! It would make my day. If I win, I will share the goodies with you girls!
TO VOTE FOR ME, simply follow these steps.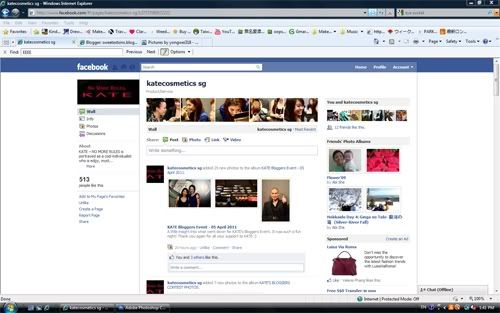 Step 2: 'Like' my picture at Kate Singapore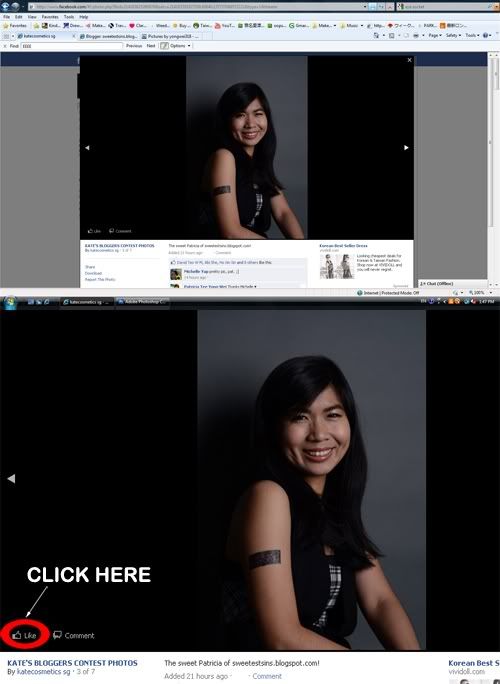 And you're done!
Thank you so much lovelies! I appreciate it! (:
Love,
Patricia