When the going gets tough, the tough goes shopping!
Wednesday, March 23, 2011
Hi lovelies, I apologise for the lack of updates. I have been pretty occupied with a couple of things lately and as much as I would to blog, I didn't have the time or energy to.
With that aside, I wanted to alleviate myself from the stress that I have been handling these days so I decided to go shopping! What do you girls do when you are stressed? For me, I go shopping! Impulse shopping always makes me happy. It doesn't have to be an expensive item, but so as long as I spend money, I feel instant gratification.

So I decided to drop by Watsons, where I get most of my beauty and skincare items from.
And I saw Kate Lasting High Coverage Powder Foundation with limited edition pact case selling at only $34! I like the case, its black and it looks so sophisticated!
Of course, I swatched it and OC-D matched my skintone better. I like how Kate's foundation mostly come in 2 colors so that I don't have to try out all one by one to see which one matches me. Oh, before I forget, the correct way of choosing your foundation shade is to test it out on your jawline, in between your face and neck so that your face and neck won't look like they are of two colors.

You know, I felt so tempted to get it since my current Kate High Coverage pressed powder UV has hit pan. And so far, the Kate products that I have gotten haven't disappointed me.

For those of you whom have been asking which pressed powder am I been using, it is Kate High Coverage pressed powder UV as shown below.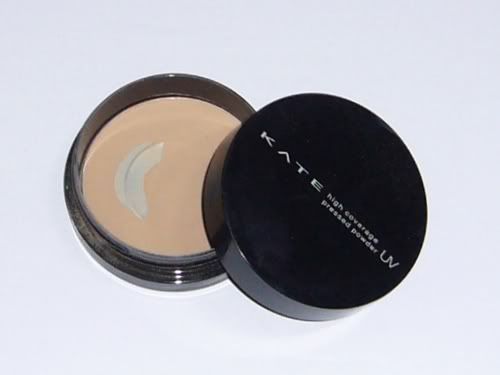 I like how this product can make me achieve a flawless finish. Usually, I would apply sunblock, BB cream followed by Kate High Coverage pressed powder. The best way to use it is to turn the powder puff that is included in a circular motion, from the left to the right, followed by right to the left so that you would get an even amount of product on your powder puff. Remember to dab the powder onto your face part by part and not glide the powder puff across your face. If you were to do the latter, it would result in your face appearing cakey.

I also spotted Ezee Power Twister Mascara in Watsons. Guess who's the ambassador? Its Dawn Yang!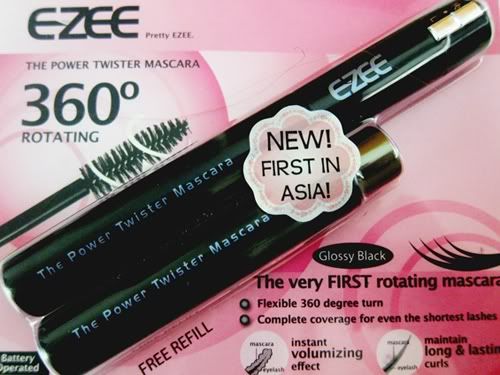 I felt so tempted to get it but its priced at $39.90! I know its a rotating mascara, but still it doesn't justify the amount that I have to pay for it because I can get the Dior Diorshow Extase Mascara by just topping up a few more dollars. I don't know about you girls, but I don't think spending money on mascaras is justifiable because they tend to dry easily and most of the time, they don't do what they claim. You probably have to buy say 5 mascaras before you actually find one that does work for you.

Don't get me wrong, I do love buying mascaras but its just that I wouldn't pay more than $25 for a tube of mascara. And I need to make a confession - I don't own any vibrating or rotating mascaras and I have no idea how good they are. But I am really interested to find out if they are really that good, or if they are better than normal mascaras so please share with me if you have tried them before and tell me when you think of them okay? Will appreciate it loads!

And so I walked out of Watsons empty handed. Can you believe it? I don't know but recently there aren't much products that appeal to me. Marketers ought to work harder to make me spend money!

Like I said, I wanted needed to buy something so I headed to Fairprice Finest. I like going to Fairprice Finest because they carry a lot of different products, like a one-stop shopping experience! And the best thing is - they have a whole section devote to makeup and toiletries.

I was checking out the makeup and skincare section and there was this promoter whom couldn't stop trying to sell me her company's products. She was like, "Hey little girl, come try our facial scrub. Its really effective. Do you own a scrub?" I was like, "Yes, I have it at home". I think I have at least 3 different facial scrubs, lol. She didn't stop at that, she tried to sell me sunblock lotion. And when I told her I have it at home too, she tried to sell me cleansing wipes. Haha. I think she could have go on and on forever. It is both good and bad to have an aggressive promoter like her as she can really push the products, the only bad thing is that she would probably scare customers off as some customers are likely to see her as being 'pushy'.

I don't know about you but I love checking the tea section out whenever I go to supermarkets. I love tea. In fact all kinds of tea. Its really to the extent whereby you name it, I drink it. My personal favourites includes Japanese Green Tea, Oolong Tea, Earl Grey Tea and English Breakfast Tea.

While checking out the different tea packs on the shelves, Lipton Russian Earl Grey Black Tea captured my attention.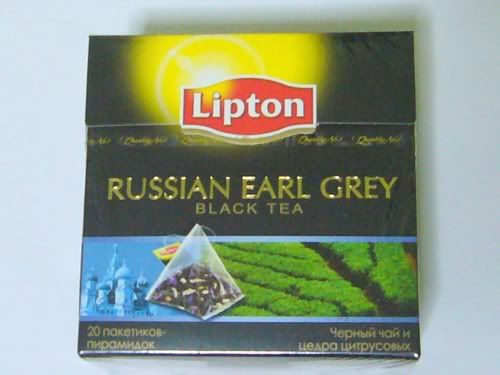 I have never seen this range of Lipton tea prior to this. Could it be a new range? The packaging kind of drew my attention because it looks so sophisticated!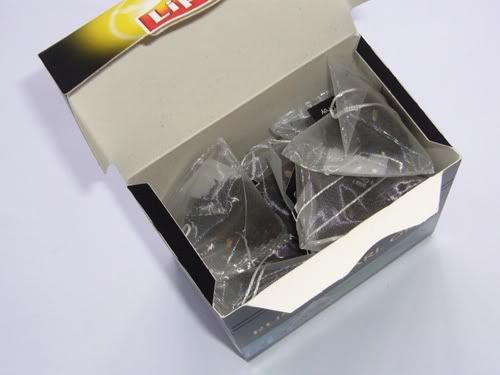 Check out the cute tea bag packaging!
Its looks like a pyramid unlike the boring flat ones!

Just wondering, how do you girls store your tea if you were to bring them out?
To start it off, I always store my tea in my bottle as shown below so that I can drink it on the go.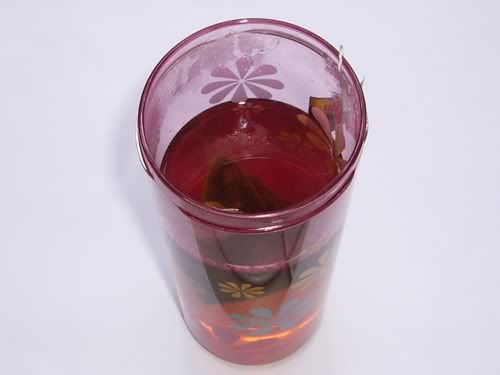 I had a sudden craving for chocolates (I don't normally eat chocolates, even if I do, I like dark chocolates) hence I went to the snacks aisle. The first thing that I saw was -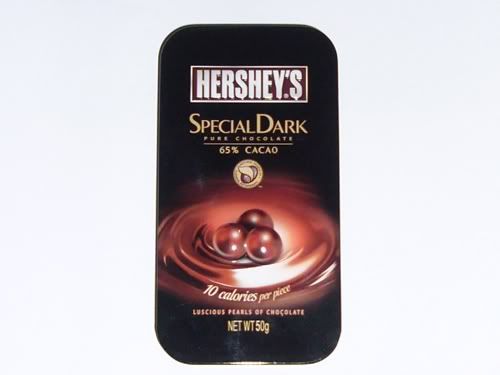 Hershey's Special Dark Pure Chocolate 65% Cacao and I grabbed it immediately. Why? Because it has a sliding box which I like and it says that its only 10 calories per piece. I tend to gravitate towards products that states how much calories it contains. Reason being - at least I won't feel so sinful after eating it!

The last aisle that I went to was - Baby products. You know what? I attracted so many stares from other shoppers. The looks from their face are rather amusing because they looked so confused as to why I am there. Anyway, all I wanted is to get Pigeon baby compact powder.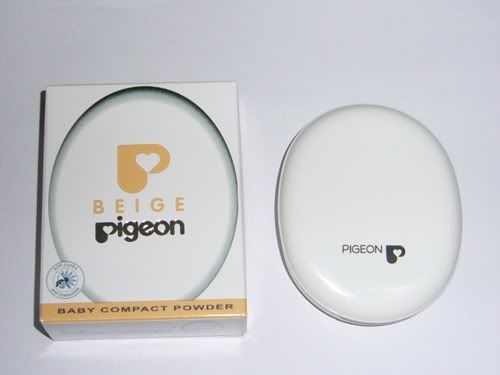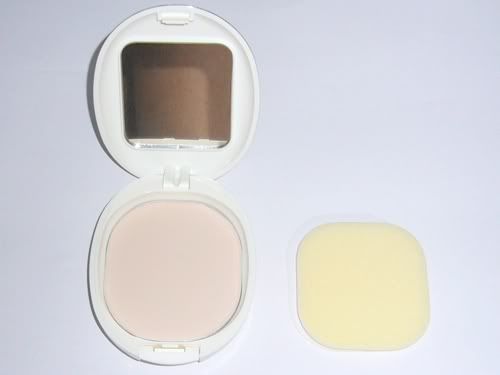 I read somewhere that Jacelyn Tay uses this compact powder on her face and we all know how flawless her skin looks so I decided to give it a try. I think that since its meant for babies, it shouldn't contain any ingredients that would make me breakout. Its really affordable, its only like $7.50? When I first opened the compact, I got so disappointed because it looked like its too light for me. But when I swatched on the back of my palm, it blends in so well.

I haven't tried it on my face yet so I am not sure of the staying power and if it would cause breakouts. I promise I will write a comprehensive review of it once I have tried it out.

That's all for this post and I hope you girls liked it even though it doesn't focus solely on beauty and makeup. I thought that it would be interesting to share other things that I like with you all.

Love,
Patricia