Recent Hauls
Thursday, March 31, 2011
Hi lovelies! It have been a good week for me because I managed to buy some stuffs lately. Have you girls experience times whereby you really felt like you need to spend money but there's nothing much for you to buy? If you find yourself nodding, you would probably understand and share my joy.
The first three items are My Beauty Diary Hello Kitty Strawberry Milk Mask, Honey Strawberry Mask and Shiseido Integrate Mineral Loose Powder in #1 which one of my close friend, B helped me to get during her recent trip to Taiwan. Knowing that I am into beauty and makeup items, she kindly offer to help me get products that weren't available in Singapore. Thanks B! You're so nice! (:
Taiwan Haul

My Beauty Diary Hello Kitty Strawberry Milk Mask and Honey Strawberry Mask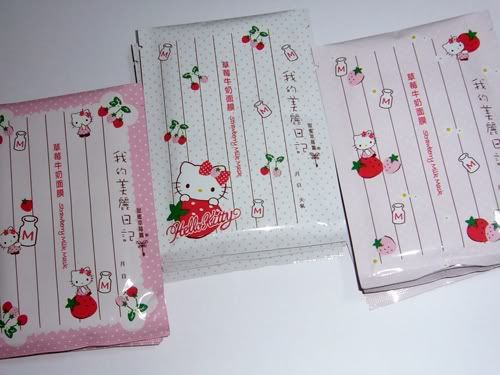 Look at how cute the packaging of each individual mask is!
These masks were on the top of my shopping list for B because they were recently launched and are only available in Japan and Taiwan. I used to be an avid Hello Kitty lover back when I was younger. Am not so into it as I grew older but somehow after my Hong Kong trip, my love for Hello Kitty sorta came back.
I haven't tried the Honey Strawberry Mask because I haven't opened it yet. However, I have tried the Strawberry Milk Mask. I only opened this pack of mask to include it in SweetestSins 1st Giveaway package of H&M Hello Kitty eyeshadow palette for the winners, Jiayi and Diana. Count yourself lucky girls because it ain't available in Singapore!
My first impression of the Strawberry Milk Mask was that it kinda reminds me of Meiji Strawberry Milk, except that the smell ain't that strong. Like other My Beauty Diary masks, it makes your skin smoother after using it. I find that the Strawberry Milk Mask is good for whitening and brightening as I could see that my face looked brighter after using it. Plus, the cute packaging makes me smile, so tell me what's not to like about it? (:

Shiseido Integrate Mineral Loose Powder in #1
I have long wanted to get Integrate Mineral Loose Powder but I couldn't find it in any Bonjour or Sasa during my trip to Hong Kong. Its one of the highly-raved products in Nu Ren Wo Zui Da. Plus, I haven't tried any other mineral foundation before apart from Everyday Minerals which disappointed me.
B actually bought the wrong shade for me. I wanted #2 but she got me #1 instead. But you know what? #1 suits me perfectly. Can't imagine how it will look if she really got me #2.
I tried to buff Integrate Mineral Loose Powder onto my face with a kabuki brush and I was amazed at how flawless and smooth it looked and felt. There are slight light reflecting particles in the powder which gives your face a glowly feel. I haven't tried wearing the foundation out so I can't say much about its staying power. I will give a more comprehensive review once I have tried it out for a longer period of time.
Watsons Haul
Remember my previous post which I mentioned that I was unable to get anything from Watsons? Well, I went into Watsons a few days ago while waiting for my Mom to get off work and guess what I came out with?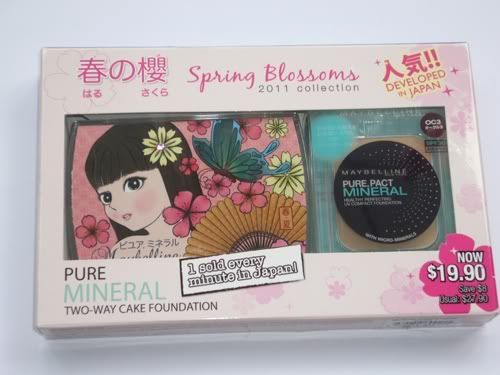 Maybelline Pure Pact Mineral Two-way Cake Foundation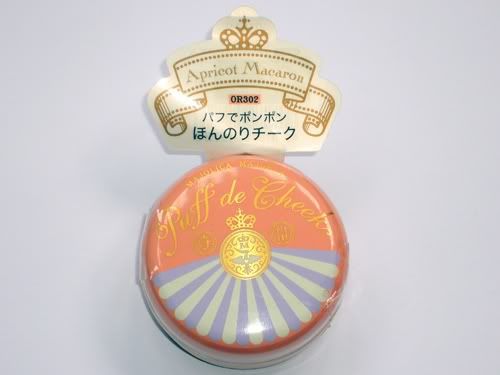 Majolica Majorca Puff de Cheek in Apricot Macaron OR302
Got the former because my Kate UV Pressed Powder has hit pan and I don't want to risk having to run out one day to get a compact or pressed powder. And also because the case is so pretty. I have wanted to get Maybelline Pure Pact Mineral Two-way Cake Foundation long ago because I liked how smooth the texture and how soft the powder felt but the packaging was so ugly back then. Plus, I haven't used a 2-way cake foundation since 2006?! Hence, its time to try it again to see if it still works for me!
And I got the latter because they were having a 25% discount going on. And since I was debating whether a not to get OR302 the other time, I thought I might as well get it since its considered rather cheap compared to PK301 that I paid full retail price for.
Daiso Haul
Aha! Daiso, my favourite store! I can never walk out of Daiso empty-handed no matter what. There's beauty supplies, food, stationery and storage supplies. To sum it up, they have almost everything!
As usual, I walked into Daiso wanting to get just one item, which I forgot upon stepping inside because I was overwhelmed by the merchandise that it carries. I always spend more than 20 minutes inside Daiso looking at their merchandise.
Anyway, I bought Japanese Green tea. Its not bad, considering that its only $2. I have wanted to stock up more initially because they always run out of stock over at Daiso, but I remembered that I still have a few boxes of tea at home. Don't you all just love tea? I love green tea, red tea, earl grey, english breakfast tea and barley tea!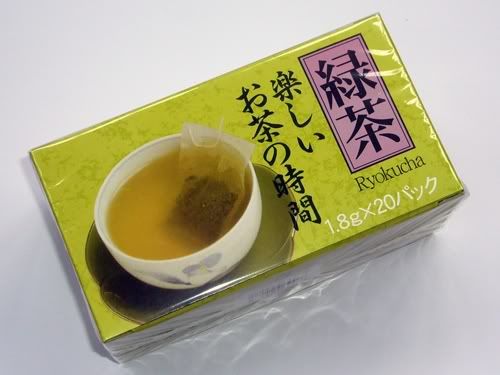 Japanese Green Tea
And the next item that I got is -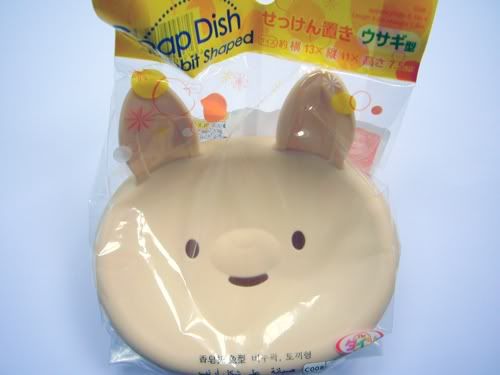 Rabbit-shaped Soap Dish
My mom thinks that it looks like a pig instead. ): To prove my point that it doesn't, here is another picture that makes it look more like a rabbit.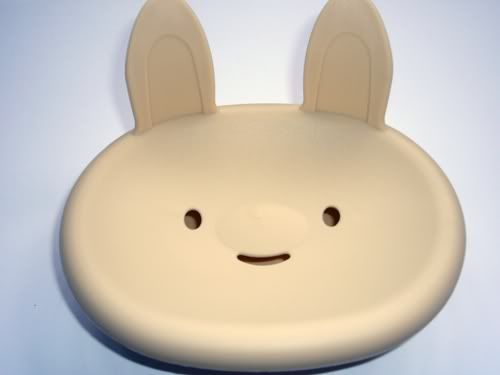 Guess why did I get it?
.
.
.
.
.
I got it to store my Lush Honey I washed the kids soap.
Prior to getting the soap dish, I placed them on the plastic wrap that came with it.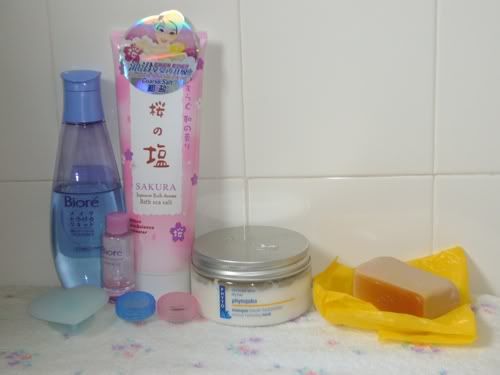 And now, its happily sitting on my rabbit-shaped soap dish! It gives me more reason to smile whenever I am bathing because I can spot the rabbit smiling at me while taking the soap bar up.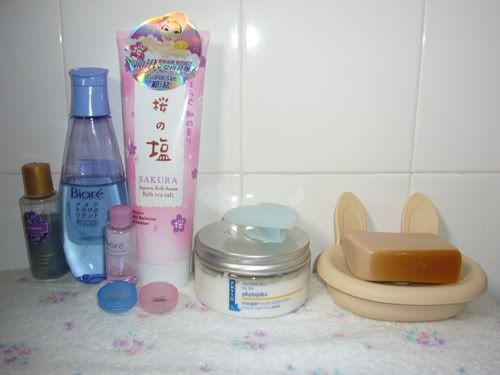 Okay, this might sound silly but I had no idea how to use a soap bar. It is my first time using a soap bar when I tried using Lush Honey I washed the kids. I was asking my mom if I should wet the bar and lather it or I should wet my skin and rub the soap bar on my skin. Turns out that it should be the latter. Yea, I know I'm ignorant but at least now I know. (:
I'm really liking Lush Honey I washed the kids soap bar. It cleans and moisturizes my skin at the same time. Plus, it smells great! Am so gonna buy a few more to stock up on my next trip there.
I hope you like this post.
Love,
Patricia