Aquarine: Japanese Sea Salt
Thursday, March 03, 2011
Relax under the shower,
soak in the bath.
Don't you girlies love long, relaxing showers after a long day of school or work? Well, I do. In fact, I love to pamper my body with a body scrub at least twice or twice a week.
I got to try out both Aquarine Japanese Fine Sea Salt (Peach) and Coarse Sea Salt (Sakura), thanks to
Beauteinn
. They have also included a travel sachet of Japanese Coarse Sea Salt (Rose) for my future travel use. How thoughtful! (:
How to use:
Apply generous amount bath sea salt on wet skin and massage gently with sponge/towel. Rinse well.
Aquarine Coarse Japanese Sea Salt (Sakura)
Also available in Peach, Rose, Chili, Milk and Tea
What is it:
Contains Sakura (organic). Whitens skin, balance oil secretions and reduces pore size. Combined with natural salt, it makes skin fair naturally again.
Main ingredients:
Sea salt, sakura, jojoba, seaweed, natural active of oak, loquat leaf, pine needles and honey.
My thoughts:
The texture of Aquarine Japanese Sea Salt Sakura is similar to that of a body scrub. I love the smell of it, it smells so good! In fact, the scent is so feminine!
After a long, tired day, I like to pamper myself by massaging Aquarine Japanese Sea Salt into my skin in circular motions from head to toe. I really like how soft and smooth my skin feel after rinsing the sea salt off. I also noticed that my skin looked a little brighter after using the sea salt.
Oh yes, there is no need to use any other shower gel or foam prior or after using the sea salt as it replaces them.
Aquarine Fine Japanese Sea Salt (Peach)

What is it:
Specially added with peach leaf ingredient, it detoxifies and activates the skin with a large amount of hazardous substances to defend aging, and gently removes dead and dulling cells. The combination of the natural salt enhances the effect of detoxification.
Main ingredients:
Sea salt, peach leaf, jojoba, aeaweed, natural active of oak, loquat leaf, pine needles and honey.
My thoughts:

Unlike the coarse sea salt, this sea salt is finer, smoother and it dissolves faster. I think it is great for everyday use. Personally, I think this would be suitable for people whom have sensitive or dry skin as the salt is finer and will not dry their skin out further.
Like the Japanese Sea Salt (Sakura), it has got a very fragrant smell too. At first, I was impressed by how good the Sakura sea salt smelled.. until I tried the Peach one! The Peach sea salt smelled so good that I can't stop smelling myself! And no, I ain't exaggerating at all. I love anything that smells good! Am a total sucker for good, delicious-smelling scents.
Also, I find that it moisturizes my skin better than the coarse salt. Like the coarse salt, it also leaves your skin feeling soft and supple.

Difference between fine and coarse salt: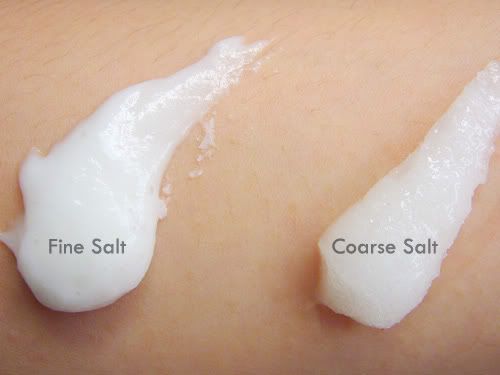 Fine Salt:
For those who prefer a mild scrub as the salt is finer and dissolves easily.
Coarse Salt:
For those who prefer to scrub longer. The salt is coarse and does not dissolve as easily.
Note: Refrain from using sea salt over cuts or wounds for it might sting a little.
Personally, I prefer the coarse sea salt because I think it exfoliates better. Do remember to apply body lotion/moisturizer after exfoliating.
How to differentiate between fine and coarse salt?
You might ask, how do I differentiate between fine and coarse salt when purchasing? Well, the coarse salt has a holographic sticker on the top as shown below.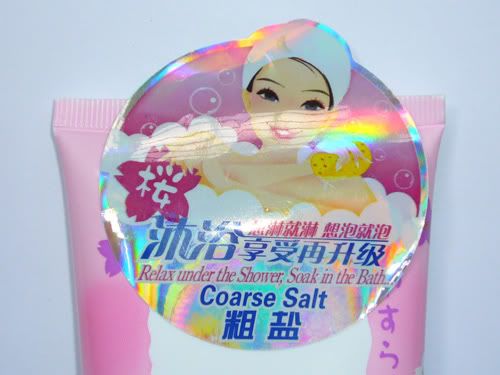 I bet you are dying to lay your hands now on these balt salts, no? Share with me your experience if you have tried any other sea salt from this series. I am especially interested in how the Chili one would feel on the body. Does it feel hot and does it really have slimming effect? Let me know if you have tried out the tea one as well for I would love to know if it smells good. (:
Want to try Aquarine Japanese Sea Salt before purchasing the whole tube? You can now do so by redeeming your free sample at
The Sample Store
! You only need to pay for postage! I know you are so gonna love me for this. (;
Aquarine Japanese Sea Salt is available at Watsons, Sasa and
Beauteinn
.
Disclaimer: Products were sent to me for review purposes.