Heme: Rose 24hr Hydrating Instant Recovery Serum and 24hr Hydrating Detox-White Night Jelly
Monday, February 14, 2011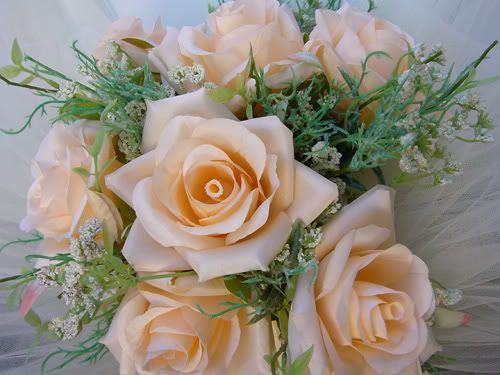 Roses have always been associated with women and love. I know a lot of women love deep red roses. As usual, I don't go with the norm. Instead, I prefer light pink or champagne roses over red ones anytime due to their soft hues which portrays gentleness and innocence. Also, I noticed that there are a lot of fragrance, bath and body products that contains rose scent out there in the market.

The healing properties of rose includes:
- Anti-depressant
- Hydrating
- Curing Insomnia
As I have mentioned earlier, I have seen rose as an ingredient in fragrances and body lotions. But rose as an ingredient in facial products? Definitely not until I received this HUGE package from Heme Singapore,
www.heme.com.sg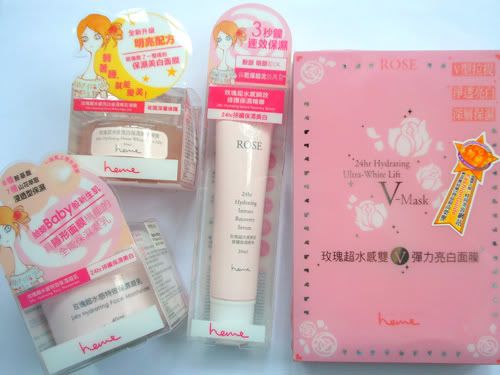 Heme Rose 24hr Hydrating Series



Heme Masks
I must say that Heme Singapore was really generous by sending me the entire Rose 24hr Hydrating series as well as a couple of different masks to try out.

For those of you whom are unfamiliar with the brand Heme, they are actually endorsed by the popular Taiwan girl band, S.H.E in Taiwan. You might want to check the commercials out below, they are really entertaining and fairytale-like even though it is in Chinese. I don't think the product that is shown in the commercial below is available in Singapore. But it really does look good though. Hopefully, Heme Singapore would bring it in! (: Apart from that, the next item that I want to try out is their BB cream. It does look good doesn't it?

Sidetrack a little, if you don't know yet, Selina from S.H.E has already been discharged from hospital.

Today, I'm going to share these two amazing products with you from Heme which includes the Heme Rose 24hr Hydrating Instant Recovery Serum and 24hr Hydrating Detox-White Night Jelly.

Heme Rose 24hr Hydrating Instant Recovery Serum
What is it:
An intensive hydrating and brightening serum for dehydrated skin that delivers a luminous glow. Helps prevent fine lines and wrinkles and repair skin imperfections and discolorations while adding moisture to the skin.
Directions:
Apply to face and gently massage in a circular motion in the morning and evening. For best result, suggest to follow with 24hr Hydrating Face Moisturizer.
My thoughts:
You might ask, why bother about including an extra step into your skincare routine? Well, a facial serum allows more nutrients to penetrate into the deeper layers of your skin which a moisturizer is not able to.
I gotta say that this is one of my favourite product at the moment after using it regularly for about a month because it really does a great job in moisturizing my tired and dull skin. Girls, moisturizing is the key to good and dewy skin!
What I do is that I apply the serum all over my face after applying toner. The texture is rather lightweight, akin to the texture in between water and gel. It absorbs into the skin rather quickly.
The only downside is that the scent can be a little overbearing in the beginning as I wasn't quite used to it. But it got better after I got used to it.
Overall, I would give this product a rating of 4/5.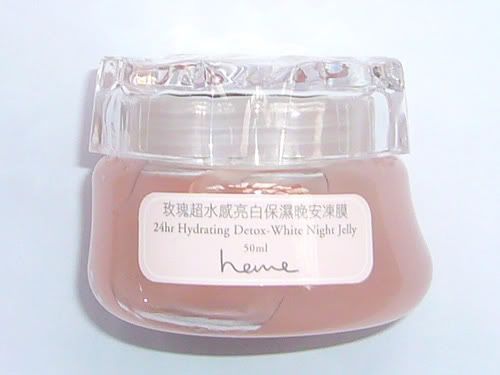 Heme 24hr Hydrating Detox-White Night Jelly

What is it:
This moisture-rich night Jelly is specially formulated to instantly hydrate skin and improve skin's ability to attract and hold water overnight for a more intense treatment and repair. Wake up the next morning with a brighter and smoother skin.
Directions:
Apply to face and gently massage in a circular motion as the last step of skin care in the evening. No need to rinse. Use 2-3 in a week.
My thoughts:
Like the Rose 24hr Hydrating Instant Recovery Serum, Heme 24hr Hydrating Detox-White Night Jelly is very moisturizing as well. In case you have forgotten, Patricia prefers gel-based products over cream-based ones anytime! However, the texture is rather sticky. But it is not worrying at all because it is meant to be applied at night. It kind of reminds me of Korean sleeping packs or sleeping masks. On some days, I use it as a night gel. On other days, I use it as a massage mask. Say yes to versatile products!
Overall, I would rate this product 4/5.
I will review the other products once I have tried them. In case you are dying to read reviews about any other products which I have posted above, do let me know and I will try to review that particular product first. For those of you whom do not know, I only do reviews of products after I have tried them personally for at least 3 weeks, because I think that is the optimum period to see the effectiveness.
Heme products are available at selected Watsons and Sasa outlets.
I hope you like this entry.
♥
♥
♥
Happy Valentine's Day sweeties,
stay pretty always!
♥
♥
♥
Love,
Patricia