Hourglass Cosmetics
Tuesday, January 18, 2011
What comes to mind what you see the word Hourglass? For me, I would be reminded of the specialist watch retailer, The Hour Glass which symbolizes perfection and accuracy. Other than that, I would be reminded of a woman's figure as well. Remember those days when we were tweens going on to be teenagers? We would lust after hollywood celebrities whom had what we called hourglass figures and we would try everything we could just to look like them.
In case you are wondering why am I sharing on the topic of Hourglass, it is because I received a package from
Hourglass Cosmetics
from the head office at California sometime back last year. It is so strange to say last year even though it was barely a month or so back, isn't it?
For those of you whom are unfamiliar of Hourglass Cosmetics, read on to find more out.
About Hourglass
A line that truly embodies modern luxury, Hourglas Cosmetics combines timeless extravagance and style all in one elegant collection. From lush shades to incredibly luxurious packaging, makeup has never been so stunning - or perfecting. Created by beauty veteran Carisa Janes, each innovative product is formulated with the latest cosmetic technoloy and cutting-edge ingredients. Many contain anti-aging properties yet leave out harmful ingredients such as parabens, phthalates and sulfates. Offering a full collection of color cosmetics and brushes, Hourglass is celebrated for its "complexion perfecting" products such as Veil Fluid Makeup, Veil Mineral Primer, and Illusion Tinted Moistuizer. The brand is available in Singapore at Sephora and True Colors. For more information on the line, please visit
http://www.hourglasscosmetics.com/
.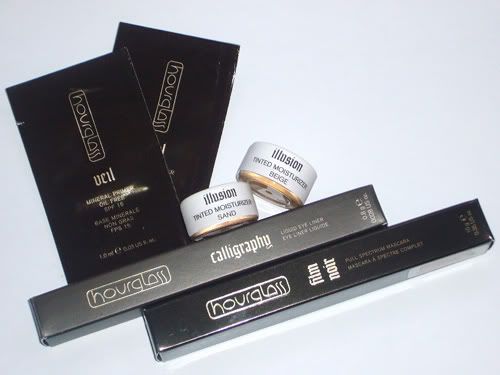 The package which I received consists of Hourglass Calligraphy Liquid Eye Liner in Ebony and Hourglass Film Noir Full Spectrum Mascara as well as samples of Hourglass Illusion Tinted Moisturizer as well as Hourglass Veil Mineral Primer.
Hourglass Calligraphy Liquid Eye Liner in Ebony


What it is:

A waterproof felt-tip precision eye liner.

Retail Price:
SGD $47

Available at:
Sephora, True Colors
Shades available:
Indigo, Ebony and Cognac
Product Claims:
♥ Waterproof
♥ Longwearing forumla quickly dries to prevent smearing and transfer
♥ Defines and contours without drag, pull, or skip
♥ Infused with antioxidant-rich rosemary, perilla, chamomile and aloe extracts to soothe and moisturize the eyes.
♥ Added pearl protein provides anti-inflammatory and skin regenerating properties
My thoughts:
At first, I wasn't too excited in trying out the liquid eyeliner because I have tried so many liquid eyeliner from different brands which failed me because - they are just so hard to work with.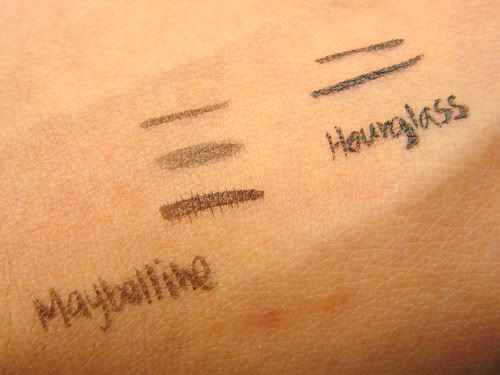 Maybelline Impact Express Smooth Felt Liner vs Hourglass Calligraphy Liquid Eye Liner
P.S: Notice the scar on the back of my palm? It just won't go away.
Has anyone tried Hiruscar? If yes, did it work for you?
Even when I found one that has a marker tip from Maybelline which is easier to work with, it doesn't allow me to draw a thin line, neither it is black enough and the worst part? It smudges right after you finish drawing the line. You might go like, "Honestly? Seriously? For real? You're kidding me right?" Well, absolutely no. If you were to check out the eyeliner swatch above, it took me a few strokes with the Maybelline eye liner to get that color and still, it wasn't jet black as you can see. Furthermore, the first line is the thinnest that I could go. And guess what? It took me only one stroke to achieve that jet black line with Hourglass eye liner and I could go as thin as the first line. Writing alphabets with an eye liner isn't exactly the easiest thing to do, in fact I had a hard time and that probably explains the ugly handwriting. You know I really feel that the Hourglass eye liner reminds me so much of my Chinese Calligraphy brush (in case you don't know, I used to practise Chinese Calligraphy when I was younger).
Thank goodness I found Hourglass Calligraphy Eye Liner, you just made me regain faith and fall in love with liquid eye liners again. Holy grail worthy? Definitely!
Hourglass Film Noir Full Spectrum Mascara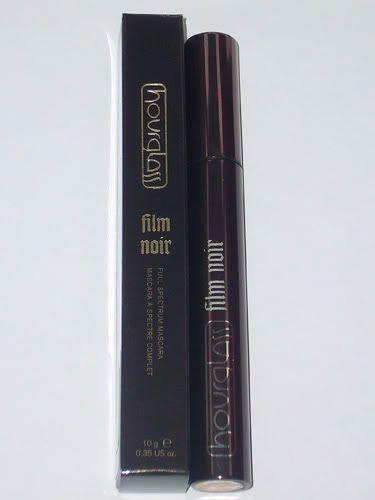 What it is:

A full spectrum mascara delivering high-impact results by volumizing, lengthening, separating and conditioning lashes.
Retail Price:

SGD $41

Available at:

True Colors
Shades available:

Onyx
Product Claims:

♥ Pro-Vitamin B5 hydrates and conditions lashes to keep them supple and healthy-looking
♥ Added polymers help formula adhere to lashes and resist smudging and fading
♥ Triple-cut, hourglass-shaped brush evenly distributes product across lashes to create volume while lifting and lengthening
♥ No sulfates, no phthalates, and no synthetic dyes
My thoughts:
For mascaras, I often opt for those that can give me longer lashes. Not that I don't want more volume, but I realised that mascaras that gives volume often end up being clumpy and I didn't like it. However, Hourglass Film Noir Full Spectrum Mascara is one that lengthens my lashes and at the same time, gives my lashes a bit of volume without it being clumpy. Its definitely an everyday mascara, subtle enough for the day/work.
It can be removed using just water, however I would recommend using an eye makeup remover to protect your eyelashes.
Tips:

- Don't wait for each coat of mascara to dry before applying the next because it would end up clumping.
- Brush through from the bottom of your lashes to the top after applying the last coat of mascara to remove any clumps with your mascara comb.
- If all fails or there is still clumping, try using a clean mascara brush to comb through to remove any clumps.
Here are the pictures of me wearing Hourglass Film Noir Full Spectrum Mascara. I know the quality ain't exactly the best, however it was the best that I could go.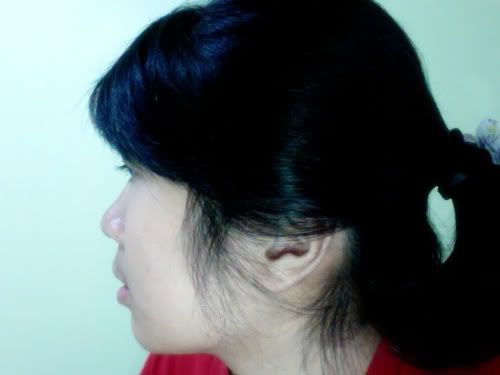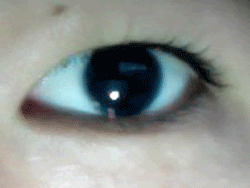 I hope you liked this review. Thanks for reading.
XOXO,
Patricia
Disclaimer: Products were given to me for review purposes.