OPI Over The Taupe
Saturday, September 04, 2010
As promised, here are the swatches of OPI Over The Taupe.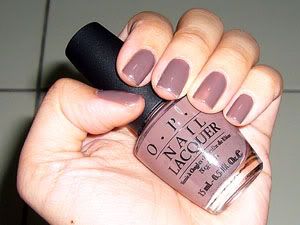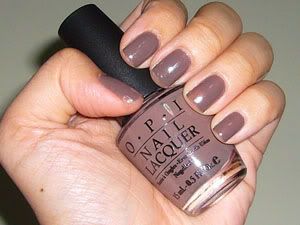 As you can see, the second picture (on the right) is rather reflective. This is because yours truly applied Sally Hansen Mega Shine Top Coat on top of it. Just one coat and its so shiny! I can't imagine how it would be if I were to apply another coat.
Well, I got OPI Over The Taupe because I wanted Chanel Particulíere badly and all the Chanel counters in Singapore ran out of it at that point of time.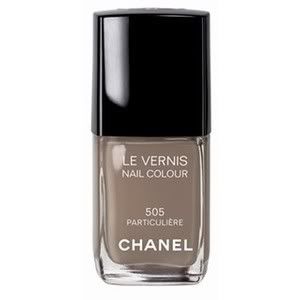 So I got OPI Over The Taupe. But guess what? As soon as I received my OPI Over The Taupe, Chanel restocked Chanel Particulíere. What rotten luck! ):
OPI Over The Taupe is a true dupe to Chanel Particulíere. I didn't believe it initially when I read it online. However, my doubts were cleared when I tested Chanel Particulíere on my girlfriend over at the Chanel counter and true enough, it looks the same as my OPI Over The Taupe. The beauty advisor even asked me if I am wearing Chanel Particulíere.
I am rather late in posting this as I have gotten it sometime in early April. I have used it twice till date and I really like the mushroom gray color. It looks very sophisticated. While I do love OPI for its salon-like finish, I really dislike the nail polish formula which is much drier (compared to other brands like Sally Hansen) as its makes it quite hard for applying an even layer. Other than that, I am still very much satifised with my first ever bottle of OPI nail polish! And I foresee more to come! (:

P.S: Why can't Singapore stock more exciting nail polish brands like Essie, China Glaze, Orly, Sinful Colors?