US Haul & Semi Smokey Eyes
Saturday, August 07, 2010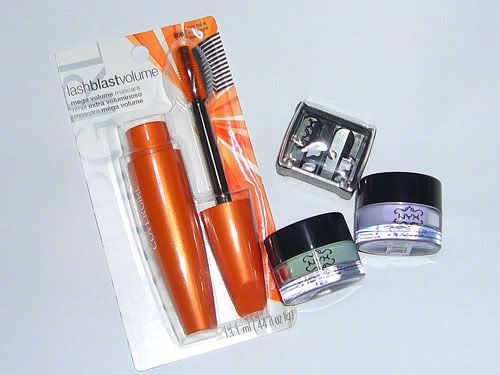 Covergirl Lashblast Mascara, NYX Sharperner, NYX Concealer Jar in Green and Purple
So I've gotten two Covergirl Lashblast Mascara, a couple of items from NYX including the sharperner which I can use it for my NYX Jumbo Pencils. Speaking of which, it reminds me that I haven't uploaded my NYX Haul 2 which I got earlier in January or February this year. So you might be probably wondering why get green and purple concealers? Well, different concealer color neutralizes different flaws.
As you can see from the color wheel, the opposite of purple is in fact, yellow. Hence, purple concealer can be used to brighten up yellow skin and its good for covering under eye circles. As for green concealers, it can be used to cover blemishes, pimples or any red patches.

So this is my overdue NYX Haul 2. I think I have been posting a lot of hauls lately.

NYX Haul 2
NYX Haul 2 comprises of a couple of NYX Jumbo Pencils (Oyster, Lavender, Strawberry Milk, Yogurt, Gold, Iced Mocha, French Fries, Pots and Pans, Slate, Lemon and Horse Radish), Round Lipgloss in Peach and Honey and Round Lipstick in Thalia and Indian Pink. I have gotten these because Juicystar07 (Blair) said that French Fries is a very good base to work with. My personal favourite for an everyday look would be using both Strawberry Milk and Yogurt. From this haul, I am loving another two items, Indian Pink Lipstick and Peach Lipgloss. Both of them look lovely on bare lips.
I was experimenting with different ways to create smokey eyes and I came up with a semi-smokey eyes which can be carried off both day and night time. The trick is to use a lighter shade in the middle to give it more dimension, while the darker shade should only focus at the sides to keep the middle portion 'clean'. Finish it out with eyeliner. You should draw a longer line that extends out of your eye to give it a sultry look. So here it is, the final product.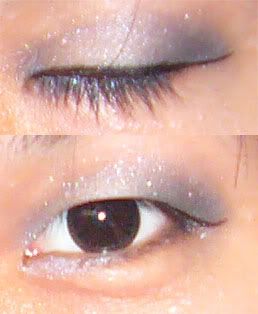 Products used:

1) Skin Food Honey Duo Shadow in #2
2) Etude House Eyeshadow in #4
3) Maybelline Impact Express Smooth Felt Liner
And of course, do put on mascara as it would make your eyes look much bigger. I didn't because I was just experimenting with different looks.
As you all know, apart from makeup, I love to blog about food too. I was doing some grocery shopping at a local supermarket and I saw these cookies and it was like calling out to me.
It contains flax seed which is commonly consumed by body builders to increase muscle recovery time as well as reduces the chances of getting high blood pressure. What's more, it has got zero trans fat! And the price is pretty decent too. Say $4 per pack. It has got cinnamon taste in it. An absolute favourite I would say!