FOTD
Saturday, March 13, 2010
Attempted to make a basic everyday makeup video tutorial but it ended up as a flop again. ): Its so hard to spare time especially now I hold a full-time 5.5days job. Ahhh, I want freedom, lots of retail therapy and good food + company!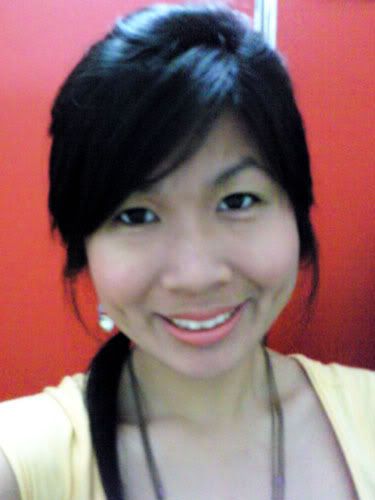 FOTD (Products used):

1) Koji Eye Talk
2) Lancome Teint Idole Ultra
3) MAC Select Moisturecover
4) Lancome Mat Finish
5) Lancome Blush Subtil
6) MAC Powerpoint Eye Pencil #Engraved (For tightlining)
7) Beautify Transplating Gel and Natural Fibre (One coat)
8) NYX Round Lipstick in Indian Pink
9) NYX Round Lipgloss in Whipped
I really liked how I did my eyes. For once, it looks bigger. Haha. I felt in love with tightlining almost immediately when I saw the results. What's not to like about it? It makes my eyes appear larger without being afraid that it might smudge! But I really dont like my nose. Its so big and flat. I remember I once read in Cleo that now one can inject nose fillers to make the nose bridge higher without having to go through surgery. If I never remember wrongly, its about say $700+ per shot at Camden Medical.

My current favourites include NYX Round Lipstick in Indian Pink. Its really pretty!!! Especially when topped with my all-time favourite NYX Round Lipgloss in Whipped. I use my NYX Round Lipgloss in Whipped almost on top of every other lipstick to 'seal' and matify the color.