CCN Day
Friday, May 16, 2008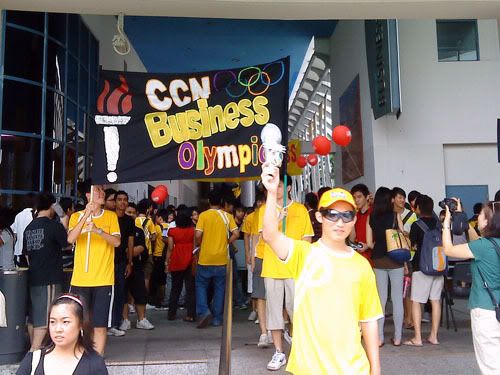 In front of Business Schoo
l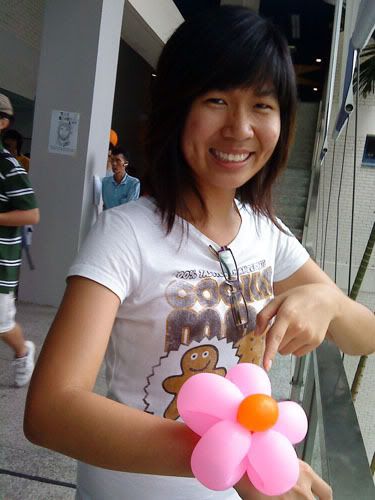 Me with the flower balloon that Chuanlian made.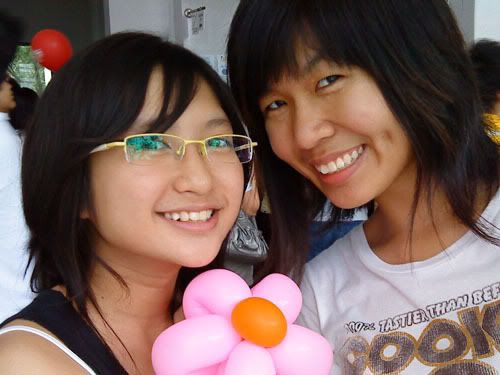 Jas &me with the flower!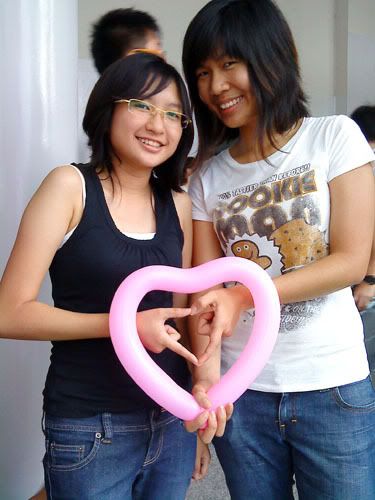 Heart Balloon


Our class made cookies over at Atiqah's place to sell on CCN Day to raise funds.

CCN Day is so fattening because they are selling food everywhere. Kenneth's class was selling fries &Wanting's class were selling flowers. I bought so much food (1A Curry Puff, Cheese Hot Dog &Nuggets). Hazel bought Ice Cream Float &Cheese Hot Dog. Jasline bought 1A Curry Puff. Atiqah bought Chicken Pitas &hot dogs. It was practically a pigging out session for everyone. Laughs.

Talking about creativity, there was this class that had this "Take a picture with Elmo for $4". Everyone was like, "Elmo is so cute!" I bet the guy inside will be so dehydrated. Poor thing.

Elmo madness!


Mr Jeffery asked us to go in to support our freshmen who were taking part in the Business School Olympics Challenge. There were games like balloon bursting w/o using hands &legs. There was actually a guy whom used his butt. It was so hilarious. As well as Sudoko.

Waiting for the results to be announced...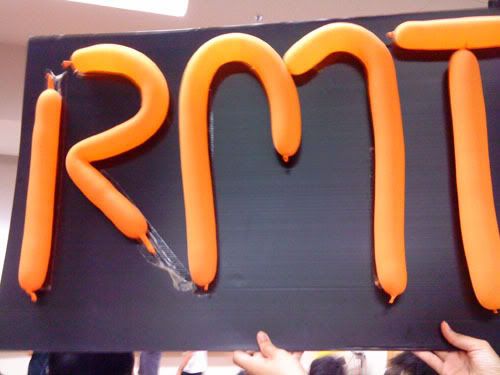 Retail Management Rocks!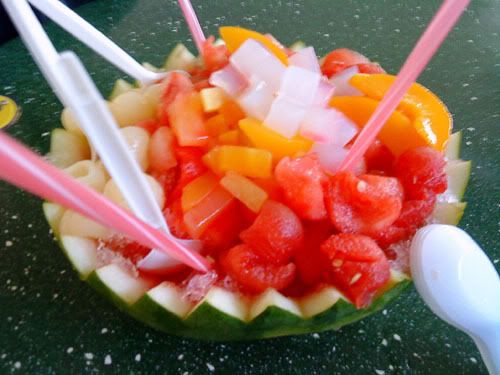 The super big &super nice watermelon that Herman, Bervyn, Jasline &I shared.


After that, we took a super long train journey to Cineleisure. On the way there, YuanSheng kept us alert by constantly telling us his trademark super lame jokes. &Bervyn kept hugging the red balloon (his son) so tightly. Hahaha. We headed to KBox. After YuanSheng left, we tried to sing English songs like More Than Words, La Vie En Rose but it was damn hard even though it easy listening to them.