Monday, September 01, 2008
Headed to school with my two lovelies, Carissa &Jasline to sign the letter of appointment for the First Night Race in Singapore. We waited for close to an hour before all the administrative stuffs were done. &That includes checking out our tee shirt sizes. Speaking of which, the tee shirts are damn fugly. I cant imagine wearing that!

Next, we headed to Bugis. Had dinner at Mos Burger. All of us were still feeling hungry despite the meal over at Mos Burger hence we decided that we would have ice cream at Andersen's! We ordered 2 Sundae Baskets. You could choose 5 flavours for each Sundae Baskets. &Since we got 2 Sundae Baskets, &there were only 10 ice-cream flavours to choose from, we chose all. There was this mixture of berries flavour which tasted really weird &Jasline was the only one whom knows how to appreciate it. LOL!

Here are the pictures.


Our Ice Cream
mouth-watering, aint it?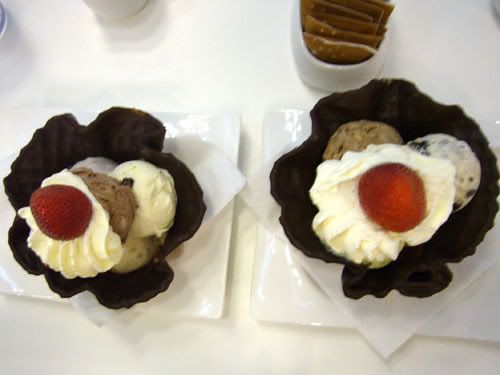 Jasline got naughty &asked us what does the ice cream looked like from the top.
AND THE VERY HAPPY &SATISFIED GIRLS AFTER EATING ICE-CREAM!