Fred Perry Autumn & Winter 2010 Collection Book
Thursday, November 04, 2010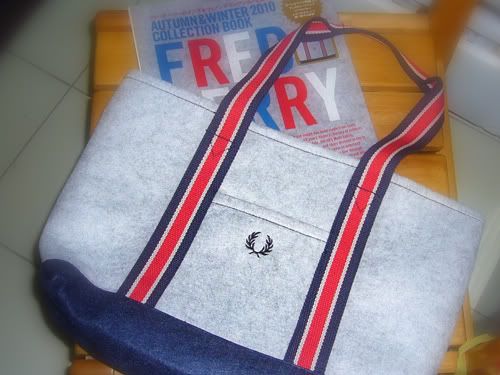 What exactly is a mook? When I first heard this term, I was confused as I didn't know what it meant. A mook is actually something in between a book and a magazine which focuses on a particular brand. The Japanese were the ones whom started this. And occasionally, they have special gifts like bags, pouches or GWP attached to the mook.
I remember how shocked I was when my cousin told me that she bought a Agnés B mook for over $20. I didn't believe why she would pay that much for a magazine when my Japanese handicraft magazines and NRWZD don't cost that much either. It turns out that all that she wanted was the Agnés B bag that came along with it.
When I saw the bag that came along with Fred Perry Autumn & Winter 2010 Collection Book, I knew I had to get it. Its so pretty. I have always wanted a Fred Perry tote bag but I didn't think that the price justified for it and not to mention that the recent color combinations ain't really that pretty. So, when I was passing by Bugis Junction one day, I went straight into Kinokuniya to get my copy of Fred Perry Autumn & Winter 2010 Collection Book.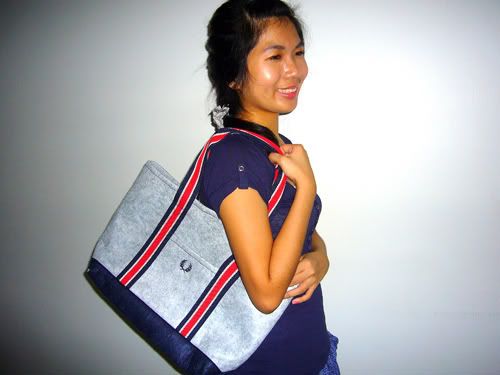 Here is a picture of me carrying it. I really like the contrast of grey and blue with red. Its very pretty! Plus, it fits my MacBook Pro. What's not to like about it? I reckon this would be my to-go bag for casual days out. (:
It retails for $28.70 in all Kinokuniya stores.
This mook got me hooked on mooks. I might just sign up for a Kinokuniya membership card soon! If you happen to share my sentiments, you might want to check out http://kinokuniyacbjbpromotions.blogspot.com/ for the latest updates on upcoming mooks.